Looking for a breathtaking waterfall to explore in Jamaica? Then you've come to the right place! Reach Falls is one of the most stunning natural attractions in Jamaica, located just outside the town of Manchioneal. Read on and discover all that this hidden gem has to offer!
Introduction to Reach Falls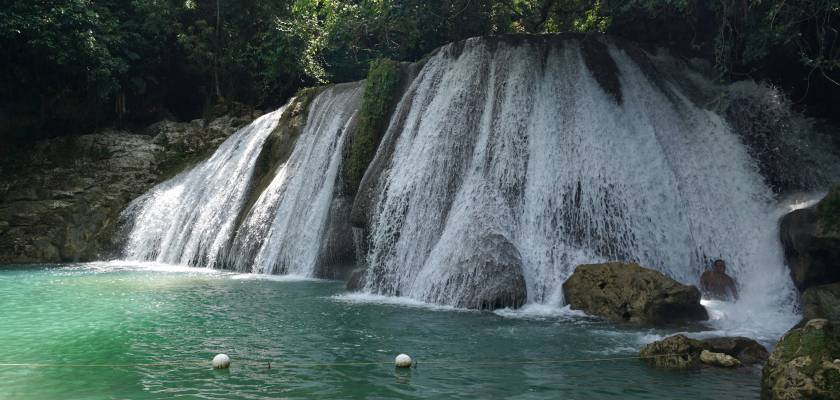 Reach Falls is an incredible eco attraction situated on the John Crow Mountain Range in the Montane Forrest of Portland, Jamaica. Approximately an hour and a half drive from Ocho Rios, Reach Falls was discovered by runaway slaves from neighbouring St Thomas Parish in search of a refuge.
The attraction offers a unique blend of comfort, relaxation and adventure with its communal pool at the base of the falls and guided hike up to swim in crystal clear pools. Visitors can enjoy stunning views of the majestic waterfall cascading down into the pool below, as well as other natural wonders such as lush rainforest and tropical birds. Reach Falls is an unforgettable destination that will leave you wanting more!
Accessing Reach Falls
Reach Falls is a stunningly beautiful natural waterfall located in Manchioneal, Portland Parish, Jamaica. The falls are privately owned and operated by the Urban Development Corporation, and they offer a unique blend of tropical nature and culture.
To reach Reach Falls, you can take a one-hour drive from Port Antonio or travel to the falls through St. Thomas if coming from the western side of the island. Once there, you'll be rewarded with breathtaking views of white rushing cascades surrounded by lush vegetation.
Whether you're looking to cool off on a hot day or just want to get away from it all, Reach Falls is an ideal spot for enjoying some of Jamaica's most gorgeous natural wonders.
Reach Falls' Geology and Landscape
Reach Falls is a stunning natural wonder located in the Montane Forest on the John Crow Mountain Range in Portland Parish. This luxurious eco attraction offers visitors a unique blend of geology and landscape with its colorful and vibrant Jamaican landscape. The falls are secluded in the jungle and surrounded by lush vegetation, making it an ecologically stunning experience. From admiring the cascading waterfall to exploring the Frenchman's Cove nearby, Reach Falls Jamaica is a tropical paradise waiting to be explored. Whether you're looking for adventure or simply want to relax, Reach Falls provides an unforgettable experience that will leave you wanting more.
Flora and Fauna at Reach Falls
Reach Falls is an amazing natural wonder located in Portland Parish, Jamaica. It is surrounded by lush rainforest and cascading falls which offer a unique blend of hanging vines, towering trees and vibrant emerald crystal clear river pools.
The area around Reach Falls near Port Antonio is an ecologically stunning experience, with a variety of flora and fauna to explore. There are many species of birds, butterflies and plants to discover while enjoying the spectacular beauty of the falls.
The surrounding forest provides habitat for various animals such as lizards, snakes and frogs. Visitors can observe these species up close or take pictures from afar. Reach Falls is also a great place for swimming in the cool river pools or simply relaxing on its banks. So come experience this remarkable natural attraction for yourself!
What to Bring to Reach Falls
Visiting Reach Falls is an experience like no other. To make sure you have the most enjoyable, safe and memorable experience, here are some things to bring with you:
Swimwear – Reach Falls is a beautiful spot to take a swim and cool off from the hot Jamaican sun. Make sure you bring something comfortable to swim in!
Water Shoes – The rocks around Reach Falls can be quite slippery so it's best to bring along some water shoes or reef shoes to help keep your feet safe and secure.
Towel – After taking a dip in the waterfall pool, it's always great to have a towel handy so you can dry off and enjoy the rest of your day comfortably.
Camera – Reach Falls is an incredible place that begs for pictures! Make sure you bring along your camera or phone so you can document all of your special moments at this beautiful spot.
Sunscreen – Jamaica is known for its sunny weather and is no exception at Reach Falls. To avoid sunburns and keep yourself protected, make sure you bring sunscreen with SPF 30 or higher.
Safety Tips for Exploring Reach Falls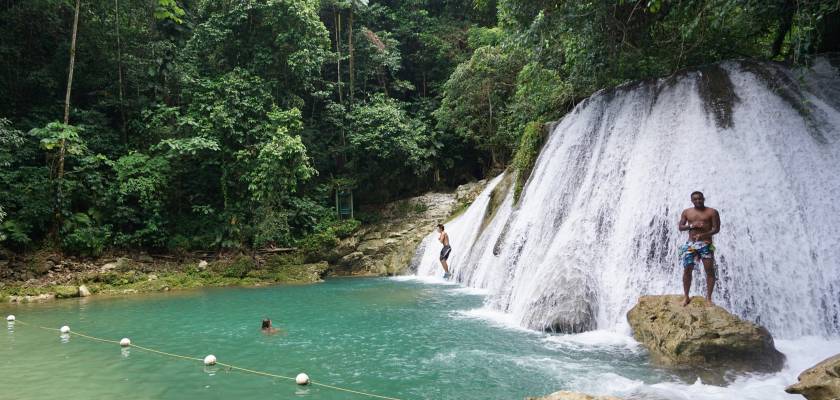 Visiting Reach Falls in Jamaica is a popular activity for travelers, but it's important to take safety precautions before setting out. Here are some tips to keep you safe and make the most of your trip:
• Hire a guide. Even if you're an experienced swimmer or hiker, consider hiring a guide who knows the area and can point out any potential hazards.
• Don't go beneath the waterfalls. Beneath the falls, there are hidden holes that are naturally carved out by the water – don't attempt to enter them as it can be dangerous!
• Bring appropriate clothing and equipment. Wear shoes with good grip, as well as protective clothing such as wetsuits or life jackets if necessary. Bring enough food and water for yourself and your group, sunscreen, insect repellent, a first aid kit, torches (flashlights) and other items you may need depending on how far you plan to explore upriver.
• Stay on designated trails/paths. Do not explore beyond marked areas as they could be dangerous or contain wildlife that could harm you if provoked.
• Be aware of your surroundings at all times. Pay attention to signs warning of potential dangers such as flash flooding or strong currents so that you can avoid them accordingly.
Following these safety tips will ensure that your visit to Reach Falls is both enjoyable and safe!
Swimming in the Natural Pool at Reach Falls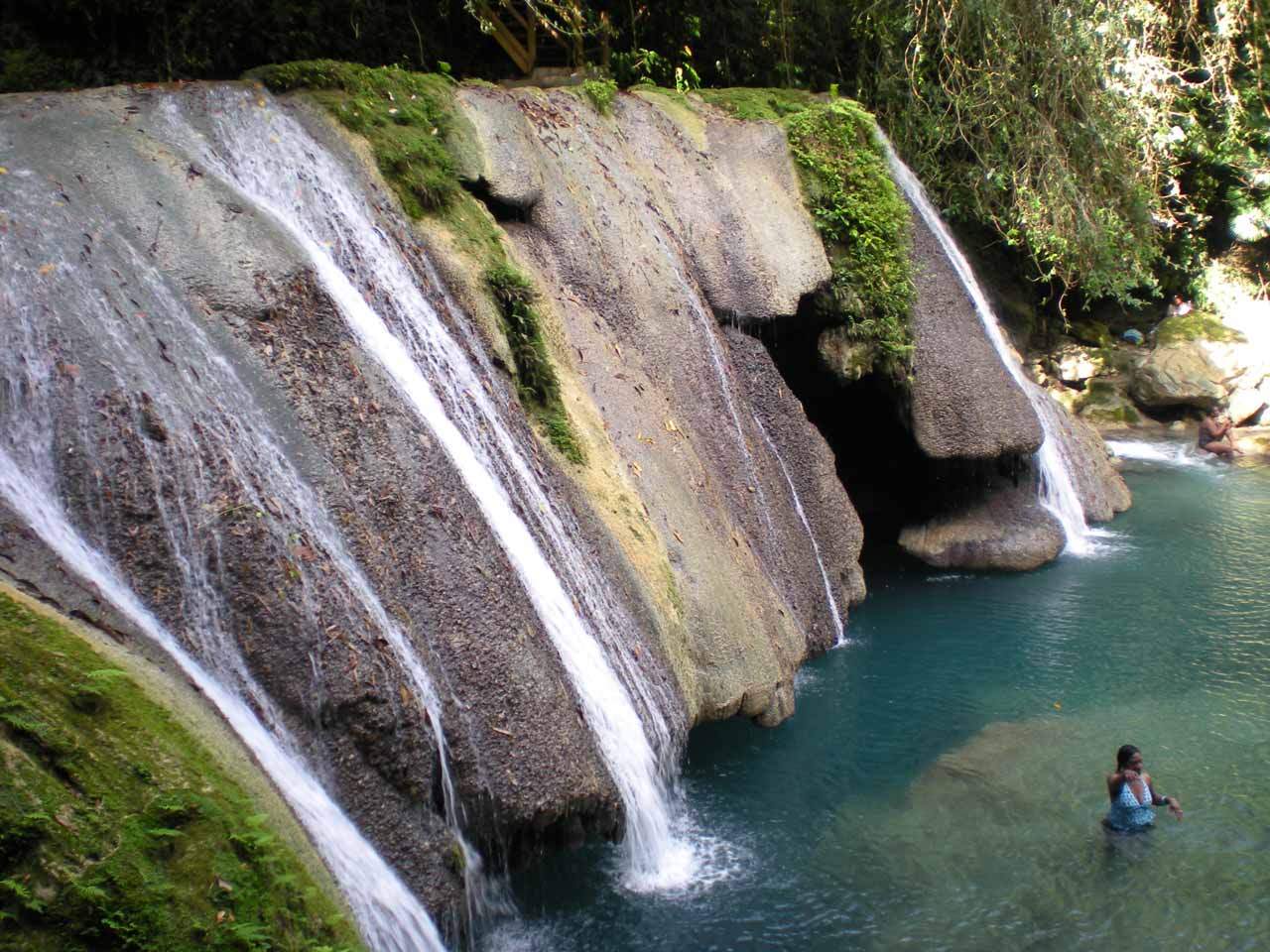 Swimming in the Natural Pool at Reach Falls is a great way to experience the beauty and tranquility of Jamaica. Located in Portland Parish, this stunning waterfall cascades down into a magical pool surrounded by lush jungle. This natural pool offers a safe and refreshing swimming experience, with plenty of rocks to grab onto and explore. In addition to swimming, visitors can also take a guided tour upstream the Driver's River, or just relax and take in the breathtaking views from the picnic area. Whether you're looking for an adventurous swim or just want to enjoy some sun and fun, Reach Falls has something for everyone!
Hiking Around the Grounds of Reach Falls
Hiking around the grounds of Reach Falls Jamaica is an incredible experience. The lush tropical jungle, the stunning waterfalls and the crystal-clear natural pools make this area a nature lover's paradise.
Along with a guided tour to explore upstream, you can take a plunge into the communal pool at the base of the falls and swim in a series of clear and beautiful pools. This breathtaking spot is located in Manchioneal, a community in eastern Portland, and it can be reached within an hour from Port Antonio's city center.
Reach Falls was discovered by runaway slaves who sought refuge in the hills of John Crow Mountains and has been fed by Drivers River ever since. While reaching the final destination is rewarding, admiring colorful Jamaican landscape on your way there will leave you with unforgettable memories.
Dining Options Nearby Reach Falls
There are many great dining options near Reach Falls, Jamaica. Portland Cliff Hanger is just 6 miles away and offers a variety of local dishes for those looking for an authentic experience. Secrets Chill Out Beach Bar & Grill is another popular spot that's perfect for a romantic dinner or casual lunch. Safari Deck Restaurant is also nearby, with their delicious Caribbean-style cuisine. For those looking to explore the area further, AquaLife Cottages in Port Antonio provides accommodation with access to an outdoor swimming pool and water sports. With so many great choices, you're sure to find something to satisfy your appetite when visiting Reach Falls!
Accommodations Nearby Reach Falls
If you're looking for a great place to stay near Reach Falls in Jamaica, then you've come to the right place! Pimento Lodge Resort is just 4.8 miles from Reach Falls, and offers 366 reviews with Fairfield Road as its address. Hotel Mocking Bird Hill is another great option, offering 366 reviews and located 2 miles away.
Frenchman's Cove Resort is also a great choice if you'd like to stay close by and enjoy the convenience of being close to the falls. AC Hotel by Marriott Kingston, Jamaica is another excellent choice if you're looking for luxury accommodations without going too far from Reach Falls. With over 112 hotels in the area, you won't have any trouble finding the perfect place that meets your needs. So don't delay – book your accommodations now and make sure you have a wonderful stay near Reach Falls!
Conclusion
Reach Falls is a stunning Jamaican waterfall attraction located in Manchioneal, east Portland. This unique eco-attraction is surrounded by the Montane Forest and John Crow Mountains, and is just over an hour's drive away from Ocho Rios. Visitors to Reach Falls will find a 7 meter (23 feet) high waterfall cascading into a 20 meter (66 feet) wide pool, allowing them to climb up the falls and take in the beautiful views of Jamaica's lush countryside. With its picturesque setting and natural beauty, Reach Falls is a must-see attraction for anyone visiting Jamaica.