Jamaica is known for its breathtaking beaches and stunning scenery. With its vibrant culture, stunning landscapes, and diverse attractions, Jamaica is a popular destination for travelers from all over the world. In this blog post, we'll take you on a journey to the best places to visit in Jamaica. So sit back, relax and let us show you the best of what this Caribbean nation has to offer!
Montego Bay
Montego Bay is the capital of Jamaica's tourism industry and offers visitors a unique blend of Caribbean culture, stunning beaches and exciting activities. Located on the north coast of Jamaica, Montego Bay boasts some of the island's most beautiful white sand beaches like Doctor's Cave Beach. It's also home to a variety of exciting attractions, from Club Mobay Departure Lounge to Martha Brae River Rafting and Ras Natango Gallery & Garden. If you're looking for an adventure beyond relaxation, take a tour to Dunn's River Falls – one of the island's most popular waterfalls. Here visitors can explore this natural wonder while climbing up the 600-foot cascade of water or taking a guided tour. No matter what you choose to do in Montego Bay, you're sure to have an unforgettable experience!
Negril
Negril is a spectacular destination located on the western coast of Jamaica. It's known for its incredible 7-mile stretch of white-sand beaches, picturesque cliffs, and beautiful sunsets. Negril is one of the best places to visit in Jamaica if you're looking for some fun in the sun! Along with its stunning scenery, Negril also has plenty to offer in terms of activities. You can explore the coral reefs at Half Moon Beach and Pristine Cove or head to Booby Cay Island for vibrant marine life and great snorkeling. If you're feeling adventurous, try out the glass bottom boat tour where you can see all kinds of sea creatures from below. Lastly, don't forget to check out the 66-foot tall Negril Lighthouse which was built back in 1894 – it's definitely worth a visit! Negril truly has something for everyone – come experience it today!
Ocho Rios
Jamaica is a beautiful destination with many different rivers and waterfalls to explore. From the Martha Brae River to Dunn's River Falls, there are plenty of opportunities for adventure and relaxation. The Martha Brae River stands out for its easy access from other tourist destinations like Negril, Montego Bay, and Ocho Rios. Dunn's River Falls is one of Jamaica's most photographed attractions with its 180 meter terraced cascades. The Blue Lagoon in Port Antonio is another popular spot as it is a natural pool surrounded by lush vegetation and cliffs. Other rivers worth exploring include the White River, Rio Grande, YS Falls, Great River, Black River, and Rio Cobre. No matter where you choose to explore in Jamaica you can be sure to find some of the most beautiful rivers in the Caribbean!
Port Antonio
Port Antonio is a beautiful city located on the northeast coast of Jamaica. It is known for its stunning natural beauty and abundance of outdoor activities. From the lush rainforest to the pristine beaches, there are plenty of things to explore in Port Antonio. Visit the world-famous Blue Lagoon and snorkel in its clear waters, ride a bobsled down an old railway track, or explore Reach Falls for breathtaking views. There are also plenty of cultural attractions such as the Old Government House, Fort George and Titchfield Market. With its stunning landscapes, rich history and vibrant culture, Port Antonio is a must-visit destination for anyone looking to experience all that Jamaica has to offer!
Kingston
Kingston is the capital and largest city in Jamaica. It is located on the southeastern coast of the island, and it's a vibrant city with a rich culture and history. The city is home to some of the most iconic sites in Jamaica, including Port Royal, Bob Marley Museum, and Trench Culture Yard Museum. Kingston is also known for its lively nightlife scene, with plenty of bars, clubs, and restaurants to choose from! Visitors will also find plenty of outdoor activities in Kingston such as hiking in the Blue Mountains or enjoying a day at one of its many beaches. There are also plenty of interesting cultural attractions including art galleries, museums and historic sites. Whether you're looking for an exciting night out or just want to explore Jamaica's culture and history – Kingston has something to offer everyone!
Blue Mountains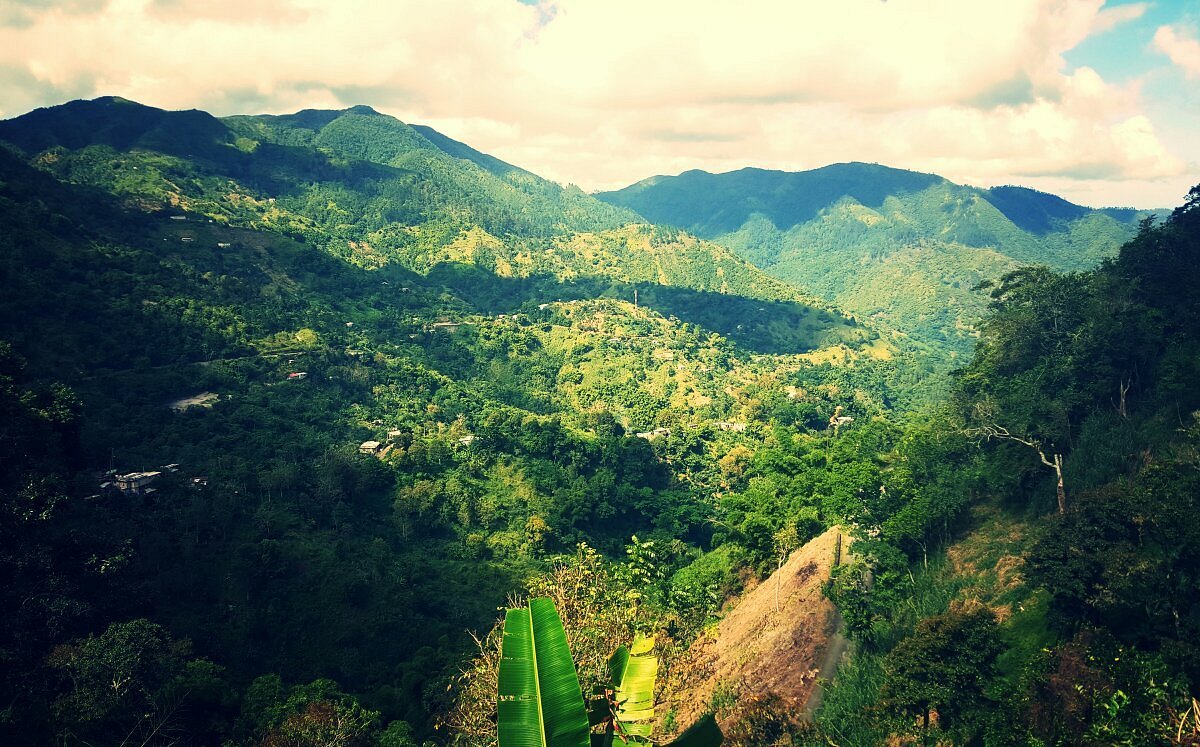 The Blue Mountains of Jamaica are a stunning mountain range located in the eastern part of the island. They form a natural barrier between the north and south coasts, offering breathtaking views and plenty of outdoor activities to explore.
The highest peak is Blue Mountain Peak, standing at 2256 meters (7402 feet) above sea level. It is possible to hike to the summit, offering a challenging climb but rewarding views at the top. Along your journey, you will pass through lush rainforests and coffee plantations, as well as enjoying some incredible panoramic views from various look out points along the way.
If hiking isn't your thing, there are plenty of other activities to enjoy in the Blue Mountains such as horseback riding, rafting on rapids or kayaking down rivers. There are also several nature parks where you can explore bird watching trails or take part in guided tours that explain more about the flora and fauna found in this area.
Whether you're looking for an adventurous outdoor experience or just want to take in some incredible scenery, visiting Jamaica's Blue Mountains is sure to be an unforgettable experience!
YS Falls
YS Falls is a stunning nature-based attraction located in Jamaica's South Coast. It is one of the most spectacular waterfalls in Jamaica, boasting a 120-foot cascade series surrounded by lush gardens and magnificent trees. Visitors to YS Falls can enjoy their time swimming and jumping in the pools, or simply take in the beauty of the cascading waters. The area also has many other attractions such as AhhhRas Natango Gallery and Garden, Dunn's River Falls and Park, Mayfield Falls and Konoko Falls. Whether you're looking for a relaxing day of sightseeing or an action-packed adventure, YS Falls will not disappoint!
Treasure Beach
Treasure Beach is an idyllic beach situated in Jamaica's southern coastal waters. It offers stunning views of aquamarine waters and golden sand that goes on for miles. Visitors to Treasure Beach can enjoy a variety of activities such as swimming, snorkeling, biking, hiking or simply relaxing in the sun. There are also boat trips available to nearby spots such as the Black River Safari and YS Falls with Lunch. To top it off, visitors can enjoy the beautiful sunset at Pelican's Bar. With its laid-back vibes and stunning views, Treasure Beach is sure to provide a memorable experience for all who visit!
Dunns River Falls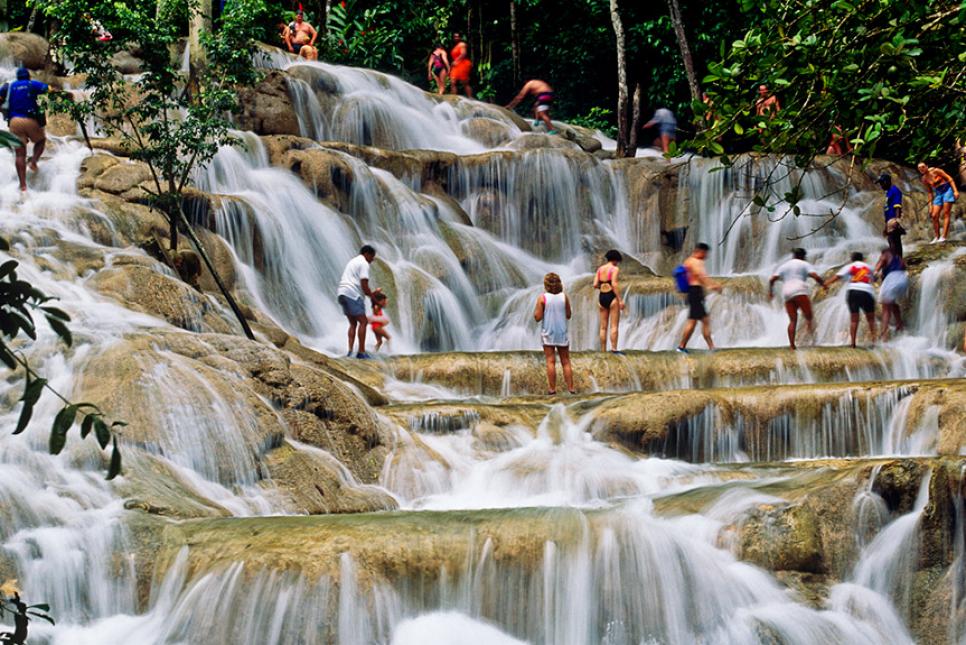 Dunn's River Falls is a must-see destination for anyone visiting Jamaica. Located in Ocho Rios, the falls stretch over 600 feet and cascade down tiers of limestone rock into the Caribbean Sea. The falls are a popular spot for tourists to climb and swim, as well as take in the stunning views of the surrounding area.
The best time to visit Dunn's River Falls is early in the morning when it is still relatively quiet. Closed-toed shoes with good grip on the bottom are highly recommended, as it can be quite slippery while climbing up or down. Tour guides are available at an additional cost to help you navigate through the falls safely and enjoy a more educational experience.
At the bottom of Dunn's River Falls lies a natural pool where visitors can take a refreshing dip in its cool waters. It's also a great spot for snorkeling or simply taking in some sunbathing on its banks. There's also three lush gardens, a waterslide, and splash pad located nearby to explore when you're done with your adventure at Dunns River Falls!
White River Rafting Adventure
White River rafting is an exciting and thrilling adventure for those looking to explore Jamaica's stunning natural beauty. On a rafting tour, you will navigate down the White River on a 30-foot bamboo raft, passing over rapids and catching sight of swimming spots such as Blue Hole, Island Gully Falls, Reggae Hill, and Thatch Hill River Park. This is one of the most relaxing and scenic tours you can take in Jamaica as it takes you through lush foliage and spectacular views. You'll also have the opportunity to spot wildlife such as birds and lizards along the way. Whether you're looking for a leisurely ride or an adrenaline rush, White River Rafting Adventure has something to offer everyone!
Seven Mile Beach
Seven Mile Beach is one of the most popular destinations in Jamaica. Situated on the western side of the island, this stunning stretch of sand spans seven miles along Negril's coastline. The area offers an array of activities, from snorkeling and scuba diving to swimming or simply soaking up some sun. Visitors can also explore nearby attractions such as Rockhouse Hotel, West End Road and the Negril Lighthouse. Seven Mile Beach is a perfect spot for beachcombing, sunbathing and taking in beautiful views of the Caribbean Sea. With its crystal clear waters, white sand and warm temperatures year round, it's no wonder why people flock to this tropical paradise!
Bob Marley Museum in Kingston
The Bob Marley Museum in Kingston, Jamaica is a must-visit attraction for any fan of the legendary reggae musician. Located at 56 Hope Road, this meticulously curated museum is dedicated to preserving the life and works of Bob Marley. Inside you'll find a collection of treasured mementos and rich memories that tell the story of his incredible life. From rare photographs to original musical instruments, each piece has been carefully selected to create an authentic experience for visitors. You can also visit the Bob Marley Mausoleum, located in the lush hills of Nine Miles, where you can pay your respects to the iconic artist. All in all, it's an unforgettable experience that will stay with you long after you leave.
Conclusion
Visiting Jamaica is an experience like no other! From its vibrant culture to its world-famous beaches, Jamaica has something for everyone. Enjoy the delicious local cuisine, take a dip in the clear blue waters of Seven Mile Beach, explore the majestic Dunn's River Falls and much more. Whether you're looking for a romantic getaway or an adventure-filled vacation, Jamaica has it all! So pack your bags and get ready to bask in the beauty of this Caribbean paradise.