Are you looking for ways to explore Jamaica without breaking the bank? Whether you're visiting the island on a budget or just looking for some affordable attractions while you're there, we've got you covered. From hidden beaches to local markets, there's plenty of things to do in Jamaica that won't break the bank!
Montego Bay
Montego Bay is a stunning destination in Jamaica that offers a wide array of activities for travelers. Whether you're looking for some fun in the sun on the beach, an exciting adventure through nature reserves or markets filled with unique crafts, Montego Bay has something to offer every traveler.
The most popular attraction in Montego Bay is Doctor's Cave Beach. This beautiful stretch of white sand beach and crystal clear waters makes it the perfect spot to lounge around and soak up some sun. For those looking for a more adventurous experience, Mystic Mountain Bobsleigh is the place to go! Take a thrilling ride down Jamaica's lush green hillsides while experiencing breathtaking views of the Caribbean Sea.
For nature lovers, Martha Brae River Rafting is one of the top attractions in Montego Bay. Travelers can float down this peaceful river on bamboo rafts while taking in all of Jamaica's natural beauty. The Animal Farm and Nature Reserve provides visitors with guided tours and opportunities to interact with wildlife such as tropical birds and butterflies.
Finally, no trip to Montego Bay would be complete without checking out Harbour Street Craft Market. Here you can find souvenirs that are unique to Jamaica as well as handmade crafts from local artisans who have used traditional techniques passed down from generations before them. With so many incredible things to do, it's easy to see why Montego Bay is one of the most popular destinations in Jamaica!
Negril
Negril is a popular Jamaican destination known for its stunning beachfront and laid-back atmosphere. Situated on Jamaica's west coast, Negril is home to the famous Seven Mile Beach, one of the world's longest and most beautiful stretches of sand. With its crystal-clear waters and lush landscape, Negril is ideal for swimming, snorkeling, exploring nature reserves or just relaxing.
The Negril Cliffs are a must-see attraction in this part of Jamaica. The cliffs stretch along the western portion of the town and offer breathtaking views of the ocean below. There are also several mineral springs in the area that locals believe have healing powers. For those looking for an adventure, YS Falls is just a short drive away from Negril – here you can swim in natural pools surrounded by waterfalls and lush greenery.
When visiting Negril don't forget to take in some local culture as well – be sure to explore some of the cultural sites around town such as the 66-foot tall Negril Lighthouse or take a day trip to nearby villages to get a taste of traditional Jamaican life. Finally, enjoy some delicious Jamaican seafood like jerk chicken or curried goat at one of the many restaurants along Seven Mile Beach before heading off to your next destination!
Blue Mountains and Coffee Plantation Tour
Experience the beauty of Jamaica's Blue Mountains and its famous coffee plantations with a guided tour! This amazing tour offers round-trip transportation, a walk through winding mountain sides, an informative tour around a working coffee farm and historic Great House, circa 1805. Hear the stories about the origins of this renowned coffee that is grown at high altitudes and learn about its harvesting process. Get a glimpse of how it is produced from start to finish in addition to enjoying breathtaking views of the lush rainforest. Plus you can take home some freshly brewed Blue Mountain Coffee as souvenirs! Join a fun and exciting day out in the beautiful Jamaican Blue Mountains on this unforgettable tour.
YS Falls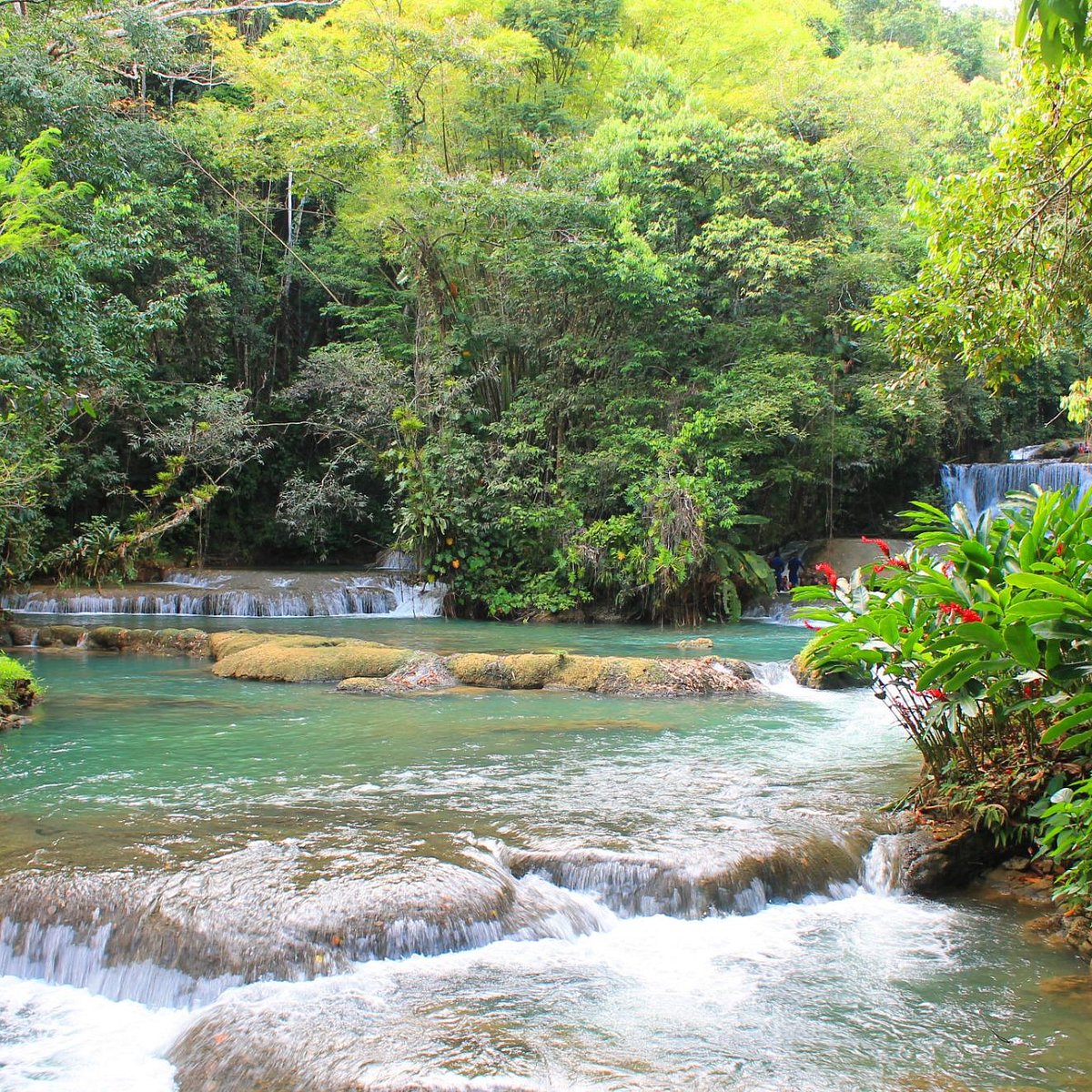 YS Falls is a majestic and stunning nature-based attraction located in the parish of St. Elizabeth, Jamaica. The expansive property spans acres of lush tropical vegetation and seven cascading waterfalls that flow into natural pools. Visitors can explore these falls and take a dip in the natural springs as well as enjoy other activities such as zip lining and horseback riding.
For an extra special experience, visitors can take part in the South Coast Jamaica YS Falls Tour which includes stops at picturesque YS Falls, Black River Safari, Appleton Rum Tour or Pelican Bar (choose up to three). This tour with a guide/driver promises an unforgettable experience with great photo opportunities.
YS Falls offers something for everyone; whether you're looking for an adventure or simply wanting to relax in nature, the beauty of YS Falls is sure to captivate you!
Seven Mile Beach and Negril Lighthouse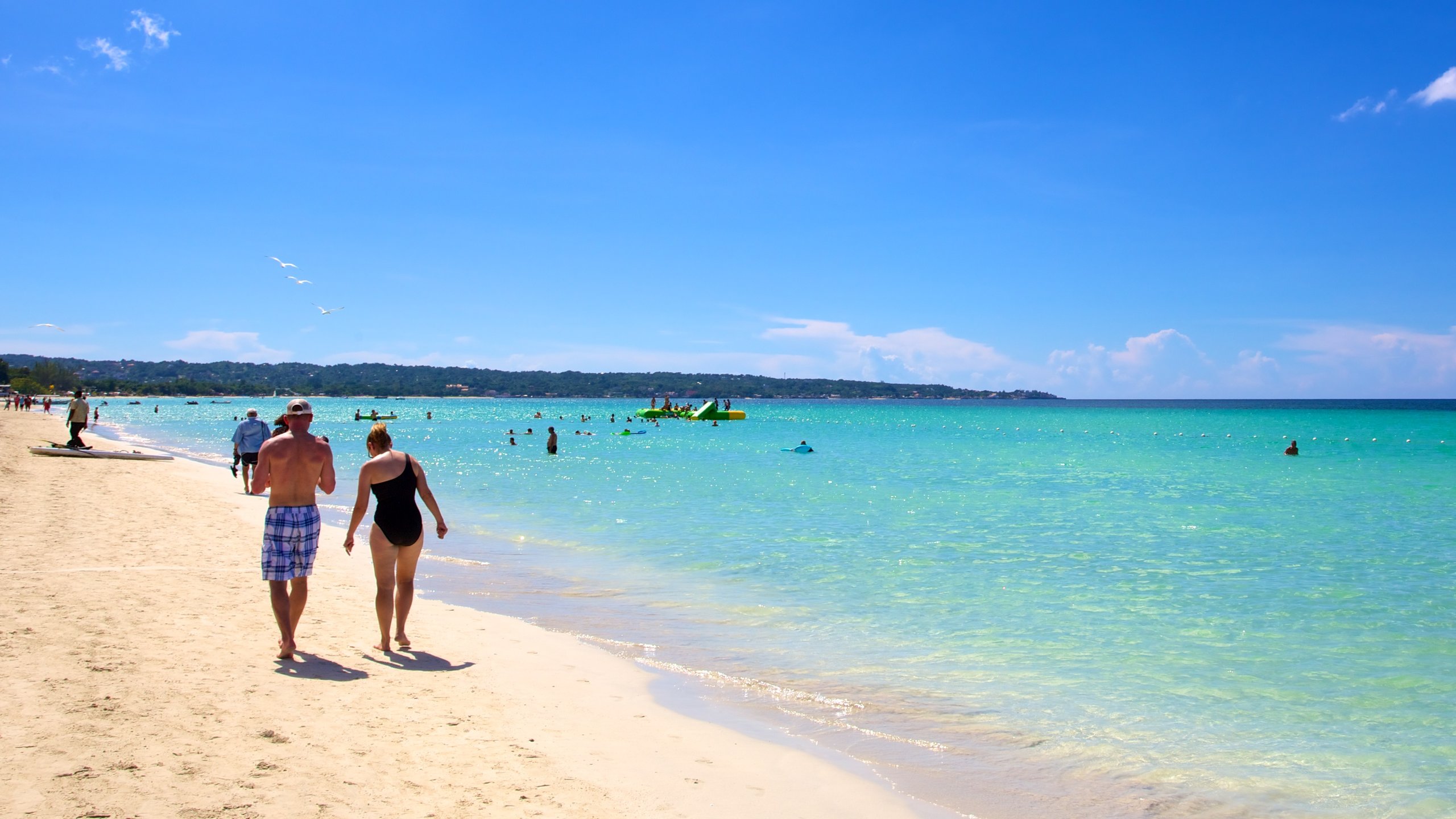 Negril, Jamaica is renowned for its stunning beaches, specifically the famous Seven Mile Beach. This beach has long been known for its laid-back atmosphere, crystal clear waters and white sand that stretches for seven miles. Here visitors can enjoy beach parties, Caribbean food, reggae music, shady palm trees and a range of water sports including jet skiing and kayaking.
The Negril Lighthouse is also a popular attraction in Negril. Standing tall at the northern end of the beach it offers some of the best views of the area. Visitors can take guided tours to explore the highlights and landmarks of Negril with their own dedicated guide or do an 8-day island tour from Montego Bay.
Whether you are looking to relax on one of Jamaica's most beautiful beaches or explore more of what this area has to offer then Seven Mile Beach and Negril Lighthouse is the perfect destination for you!
Martha Brae River Rafting Tour
Take a journey down the Martha Brae River, Jamaica's premier river rafting attraction. On your tour, you'll float on a 30-foot long bamboo raft and explore the island's aquatic attractions by day and by night. Enjoy a three mile glide down the Martha Brae River with an experienced captain as your guide. Relax in safety and comfort as you drift through the scenic Caribbean landscape. You'll be greeted with a welcome fruit drink upon arrival at Rafter's Village, located approximately ten minutes from Falmouth, birthplace of one of Jamaica's greatest heroes, Marcus Garvey. Make sure to bring your bathing suit for a refreshing swim! The entrance fee and taxes for this unforgettable experience is only $228. So come on down to Jamaica and visit the Martha Brae River Rafting Tour today!
Appleton Rum Estate Tour
Explore the oldest rum distillery in Jamaica with a tour of the Appleton Rum Estate. Located in Siloah, St. Elizabeth, the estate is home to one of Jamaica's best rums – Appleton Estate Jamaica Rum. On this private tour, you will learn about the history of rum production, take in breathtaking grounds and explore colorful stories about the locale. You'll also get to sample some delicious Jamaican lunch (at an additional cost) before heading back to Lucea/Negril! Your driver will pick you up at your Kingston hotel and take you on a journey back in time as you discover the process of crafting exquisite Appleton Estate rums from cane to cup. This fun-packed day tour also includes stops at Black River Safari, Middle Quarters, Bamboo Avenue, YS Falls and Mandeville for more exciting Jamaican adventures!
Dr. Dennis Beach, St. Elizabeth
Dr. Dennis Beach, St. Elizabeth is a popular tourist destination located in the parish of St Elizabeth, Jamaica. The beach is known for its crystalline turquoise waters and white sandy shores, making it a perfect spot for relaxation and spending quality time with family or friends. It's no wonder why Dr. Dennis Beach is considered one of the most beautiful beaches in Jamaica!
In addition to its beautiful shoreline, Dr. Dennis Beach boasts a variety of activities and attractions to enjoy while there. Tourists can take advantage of the many water sports available such as snorkeling, kayaking, and fishing. Those looking for a more relaxed day can rent lounge chairs or umbrellas to soak up some sun while listening to the waves crash against the shoreline.
For those visiting with kids or wanting to get close to nature, Brooks Farm & Attraction offers training sessions with horses and other animals such as donkeys, goats and pigs – perfect for animal lovers! Visitors can also explore Alpart Bauxite which is located nearby and take part in an Appleton Estate rum tour which includes sampling different types of rum produced at this famous estate.
No matter what type of experience you're looking for, Dr Dennis beach has something for everyone! So if you're looking for an unforgettable escape filled with relaxation and adventure alike then be sure to add this stunning beach destination on your next Jamaican vacation list – you won't regret it!
The Pelican Bar, Treasure Beach
The Pelican Bar, located in Parottee Bay on the South Coast of Jamaica, is an amazing and unique experience. It's a bar built on a sandbar literally in the middle of the sea! To get there, you can take a 10-minute boat ride from Parrotee Point for $10US or alternatively from Black River or Treasure Beach. Once there, you'll be able to enjoy delicious food and drinks as well as some incredible views. You can also take advantage of some great activities like swimming with stingrays, snorkeling and fishing. If you're looking for a restful vacation spot while traveling to Treasure Beach then Billy Bay Beach is definitely worth checking out! Entrance fees are not included in transportation so it's important to plan ahead when visiting this amazing attraction.
Jamaica Gully Adventure Park
Jamaica Gully Adventure Park is a great spot for adventure seekers looking to explore the Jamaican outdoors. Located in Negril, this 980-acre park offers visitors an exciting ATV/Buggy tour through lush gardens and forests. Witness amazing views of Jamaica's beautiful coastlines and rugged mountains as you make your way through the park. The park also features Jamaica's largest paintball facility and Kool Runnings Adventure Park, a full water and adventure park perfect for adding some excitement to your day. Plus, enjoy other activities such as zipline rides, horseback riding, swimming, river tubing and entry to Ocean Outpost Park when you take part in Dr. Fun Tours' Big 4: Sky, Bobsled, Raggamuffin & Dunn's River Fall Jamaica Adventure Park tour. With amazing attractions at an affordable price of $15 per person for Island Gully Falls or free admission to Margaritaville Ocho Rios, it's easy to see why Jamaica Gully Adventure Park is the perfect place for a fun-filled day!
Conclusion
Jamaica is a beautiful Caribbean island with plenty of attractions to explore. From natural sites such as waterfalls, lagoons and beaches, to exciting activities like rafting on the Rio Grande and Kool Runnings Adventure Park, there is something for everyone. And don't forget about Dunn's River Falls and Mystic Mountain in Ocho Rios or Sun Valley Plantation in Negril. Whatever your preference, Jamaica has something to offer!