Feel the rhythm of the Caribbean with these beautiful Jamaican poems written by Claude McKay. From vivid depictions of everyday life to thought-provoking musings on society, Claude McKay's poetry speaks to our hearts and minds. In this post, we'll explore some of his most beloved works so you can get a taste of his unique style.
Introduction to Claude McKay
Claude McKay was a Jamaican-American writer and poet born on September 15, 1890. He is best known for his novels and poems, including the famous "If We Must Die". His early poetry collection includes Songs of Jamaica and Harlem Shadows, which showcased his unique style of writing. McKay was also an influential political figure and was active in the Harlem Renaissance movement. His works span national boundaries, literature genres such as poems, essays, novels, memoirs and political identities. Claude McKay's work continues to live on in modern culture; he is celebrated as the "proud child of black Jamaica" who brought a new life to literature. To this day he remains a major influence in the world of literature and poetry.
An Overview of His Poetry
Claude McKay was a Jamaican-American poet who flourished during the Harlem Renaissance of the 1920s. His poetry was a powerful voice in African American literature, exploring themes of identity and struggle. His works included Songs of Jamaica (with introduction by Walter Gardner), which explored the rich culture of Jamaica. McKay's work was also inspired by his own experiences as a Jamaican immigrant in New York City, and he used his poetry to challenge white supremacy and racism. His other works, such as Home to Harlem and Banjo, explored the lives and struggles of African Americans during this period. McKay's work provided an intimate look into the lives of African Americans during this time, offering a unique perspective on the era that is still relevant today.
Themes in McKay's Poetry
Claude McKay, a poet of Jamaican descent who flourished during the Harlem Renaissance of the 1920s, wrote poems that challenged white supremacy and critiqued the social, economic, and political conditions of African Americans in western society. His work explored themes of innocence lost, racial violence, and the concept of being an outsider. He is best known for his sonnet "If We Must Die" which was written during the Red Summer of 1919. Other themes explored in McKay's poetry include Jamaican culture and identity, as well as his own experiences living in America. Scholars have analyzed several of McKay's works to gain insight into how his poems reflect on the African American experience throughout history.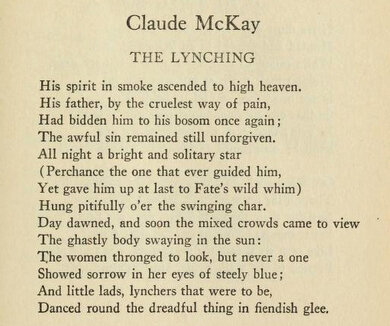 Claude McKay was a Jamaican-born poet and socialist, whose work has been highly influential in the Caribbean and the United States. He is best known for his poem "If We Must Die" written in 1919 in response to the "Red Summer" of intense violence against African Americans. His other notable works include Constab Ballads (1912), Songs of Jamaica (with introduction by Walter Gardner), "De Hailstorm," "Fetchin' Water," "King Banana," and "Bennie's Departure."
His poems are often full of emotion and nature imagery, such as in "If We Must Die" which speaks of dying with dignity rather than like hogs. In America he speaks of the bitterness of life for black Americans, while in Birds Of Prey he paints a vivid picture of oppression and in Flame-Heart he calls on courage to survive.
A comprehensive anthology of McKay's early poems was recently released as well as a comic sketch about Jamaican peasant life. Through these works, McKay has opened up the door for other Caribbean authors to explore dialect poetry and make it more mainstream.
"The Tropics in New York"
Claude McKay's poem "The Tropics in New York" is a powerful narrative poem that explores the feelings of homesickness and longing experienced by a Jamaican immigrant living in New York City. In the poem, McKay paints an evocative portrait of his homeland, describing it as a place where lush plants and fruits grow in abundance. The poem is written in sonnet form and uses powerful imagery to convey the speaker's intense emotions. The poem ultimately portrays the speaker's deep longing for home, which is only exacerbated by the seemingly opposite environment he finds himself in. It is a powerful exploration of displacement, identity and culture shock, while also being an incredibly moving tribute to McKay's homeland.
"Harlem Shadows"
Claude McKay was a renowned Jamaican poet and author who wrote the 1919 protest poem "If We Must Die" and the 1922 poetry collection "Harlem Shadows". His work ranged from vernacular verse celebrating peasant life in Jamaica to fairly political writing, such as his famous poem "Harlem Shadows". The 18-line sonnet portrays the struggle of sex workers in 1920s Harlem, which earned it some criticism from reviewers. However, this did not stop McKay from writing and producing many works, including his sociological study, Harlem: Negro Metropolis. This collection of poems is still celebrated today as a seminal example of African American literature.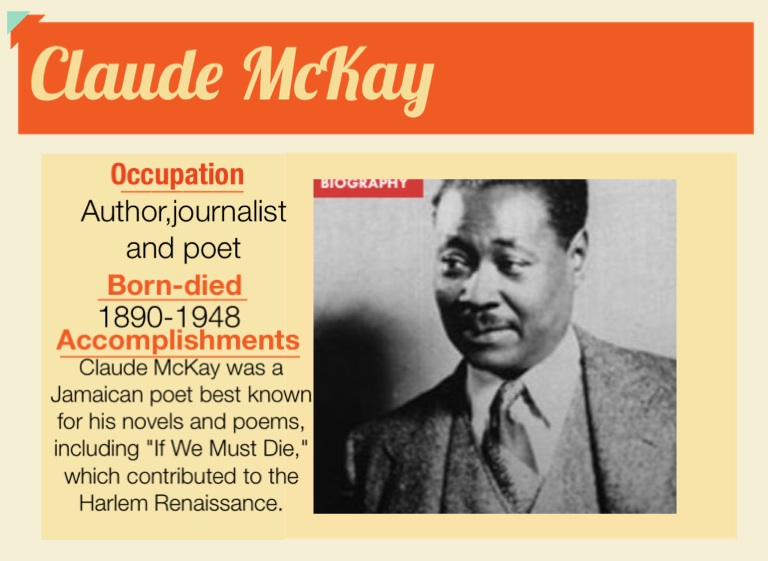 "Cane"
Claude McKay was a black author who wrote poems inspired by his African-American heritage and experience of living in Jamaica. One of his most famous poems is "Dog", which was first published in 1912 as part of his book Songs of Jamaica. The poem tells the story of a dog who has been pinned in an inglorious spot, while around him bark the mad and hungry dogs of war. The poem speaks to the horrors experienced during British rule in Jamaica, and serves as a powerful reminder of the suffering endured by those living under oppressive regimes. While "Dog" may be one of McKay's more somber works, it remains an integral part of Jamaican poetry and is a testament to the resilience and strength found within the Caribbean community.
"Outcast"
Claude McKay was a Jamaican bisexual poet, novelist and activist who used his writing to express his struggles under the British colonial yoke. He wrote the celebrated poem "Outcast" in order to convey his indescribable feelings that could only be expressed through poetry. The poem is a powerful depiction of an individual confronting oppression and its ability to resonate with readers beyond the Caribbean origin of its writer. McKay's other dialectic poems include "Songs of Jamaica" (1912) and "Summer Morn in New Hampshire" which were also published in the 1920 double issue of Cambridge Magazine. His poem "Outcast" remains relevant today as it speaks to issues that many people still face such as racial discrimination, inequality, and injustice.
"The Lynching"
Claude McKay's poem "The Lynching" is a powerful and heartbreaking expression of the African American experience. The poem depicts a lynching from the perspective of a black man looking up at the noose. McKay's use of Jamaican language and rhythm creates an atmosphere of despair and hopelessness that amplifies the horror of this act. The poem also speaks to the resilience of black people in face of such violence, as they continue to fight against oppression. Furthermore, "The Lynching" serves as an important reminder that racism remains a pervasive force in our society and that true justice will only come through collective action.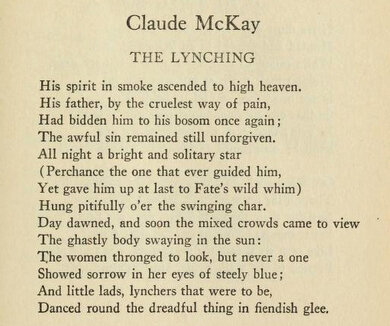 Claude McKay was a Jamaican-born poet and socialist who is widely regarded as one of the most influential poets of the Harlem Renaissance. His 1912 publication of Constab Ballads marked his entrance into the literary world and opened the door for other writers from the Caribbean. McKay is best known for his poems 'If We Must Die' and 'Harlem Shadows', which were both written during the Renaissance era. These poems explore themes of resilience, courage, and freedom in the face of adversity. In addition to these two renowned works, McKay also wrote many other poems in Jamaican dialect which were accepted by literary scholars during his time. His work has been celebrated in several anthologies such as Songs of Jamaica (with introduction by Walter Gardner) and The Selected Poems of Claude McKay (1953). Through his poetry, McKay has left behind a lasting legacy that continues to inspire writers today.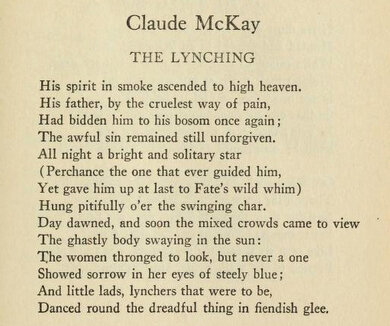 Claude McKay was a Jamaican-born poet and socialist who revolutionized the Harlem Renaissance. His Constab Ballads was published in 1912 by Watts & Co. Two of his most famous poems, 'If We Must Die' and 'Harlem Shadows', were written during the Renaissance decade. These poems explored themes of struggle, courage, slavery and bitterness. They were so powerful that they opened the gates for other Caribbean writers to write in their native dialects. Karena Chambers and Lyndon Mason recited these two sonnets at the Jamaica National Library in 1953. McKay's work continues to be celebrated today for its honest exploration of Jamaican culture and its influence on Caribbean literature.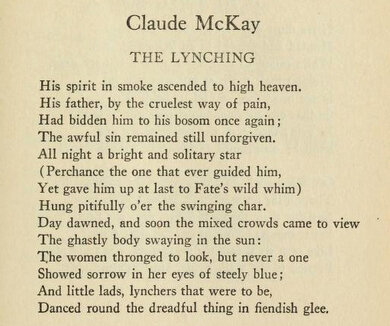 Claude McKay was a Jamaican-born poet and socialist, widely considered to be the first major poet of the Harlem Renaissance. His works, such as 'If We Must Die' and 'Harlem Shadows' composed during this period, have been explored for their romantic elements. His collections of poems, Songs of Jamaica (with introduction by Walter Gardner) and selected poems of Claude McKay (edited by Max Eastman) were published in 1912 and 1953 respectively. Through these works, Claude McKay captures the hardships and struggles of his people while also offering glimmers of hope. He is an inspiration to writers and poets alike, reminding us that even in times of difficulty, we can find beauty in life.
The Legacy of Claude McKay's Poetry Today
Today, the legacy of Claude McKay's poetry is celebrated around the world. Born in Jamaica in 1890, McKay was an important figure in twentieth-century poetry and a major contributor to the development of African American literature. His works include "The Tropics in New York", "If We Must Die", and "Harlem Shadows". His poems are a powerful articulation of the struggles and experiences of African Americans during this time period.
McKay's influence can still be felt today – his poem "If We Must Die" has become an anthem for freedom fighters around the world and is recited each year by Jamaicans on Claude McKay's birthday (September 15th). His collections, such as Maxwell's Complete Poems: Claude McKay (2008), Selected Poems (2012) and The Vintage Book of African American Poetry (2014), showcase his powerful voice which speaks to people across generations.
McKay's works continue to inspire new generations of readers who are seeking a deeper understanding of their own experiences. Whether it is through his dialect verse or reimagined classics, McKay's words remain timeless and relevant to this day.
Analyzing the Symbolism in Claude McKay's poetry
Claude McKay was an important voice in twentieth-century poetry. A Jamaican-born poet, he wrote about the experiences of Black Caribbean migrants and African Americans living in Harlem during the 1920s. His poems were a form of protest against injustice and exclusion from mainstream society. Claude McKay used symbolism to evoke powerful emotions and motivate people to stand up for their rights.
In Claude McKay's "America," readers can find examples of his use of symbolism. The poem is a sonnet that expresses McKay's view of America as a place where inequality reigns, but also one with potential for redemption. In this poem, he uses symbols like stars, flags, and eagles to represent freedom and hope. He also employs symbols like darkness and shadows to represent oppression and fear. By juxtaposing these symbols, he conveys his message that despite the darkness, there is still room for light—for hope—to break through.
The dual roles of constable and poet occupied by Claude McKay are also evident in his other poems such as "Romance in Marseille." Here he explores the concept of plurilinguism through his poetry which entangles itself with the lives of its readers. He uses symbolism to depict scenes from everyday life as well as abstract ideas such as love, loss, struggle, and resilience.
By examining Claude McKay's use of symbolism in his poetry, we can gain insight into how he viewed both himself and the world around him. With this
Conclusion
Claude McKay was a Jamaican poet who wrote about his homeland's culture and heritage in his works. His poems often focused on themes of identity and racial pride, as well as the beauty of Jamaica and its people.
His work has become iconic for its ability to express the unique experiences of Jamaicans in a way that is both poetic and honest.
Through his writings, McKay was able to capture the essence of Jamaica, offering insight into the culture, history, and struggles of the island nation. By understanding McKay's poetry, readers can gain an appreciation for Jamaica's people and their stories.