If you love Caribbean cuisine, then you're in for a treat! Jamaican dishes are known for their unique flavors and spices, making them an exciting addition to any meal. From patties to rice and peas, here are some of the most popular Jamaican dishes that will tantalize your taste buds.
Rice and Peas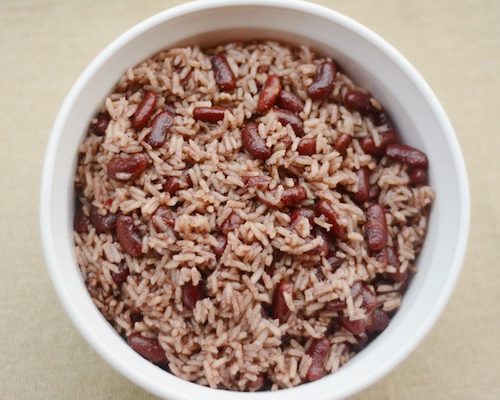 Rice and Peas is a popular Jamaican dish that's served on Sundays throughout Jamaica. It's made with red kidney beans, coconut milk, scallion, onion, thyme, and Grace Red Kidney Beans. The ingredients are boiled until the peas are cooked through and then served over rice. This delicious meal is savory with a hint of sweetness from the coconut milk. It's also packed with nutrients like protein and fiber to help keep you feeling full longer. If you're looking for a tasty way to enjoy traditional Jamaican cuisine, Rice and Peas is an excellent choice!
Jerk Chicken
Jerk Chicken is a classic dish from Jamaica that has won the hearts of many around the world. It is made with an aromatic jerk marinade made with allspice and Scotch bonnet peppers, giving it a unique flavor.
The chicken is then grilled or smoked to perfection, giving it a deliciously smoky flavor. Jerk Chicken can be served with Jamaican Rice and Peas, Fried Ripe Plantains, or any other side dishes for a truly authentic Caribbean experience.
For those looking to add some heat to their meal, Jerk Chicken can be spiced up with extra scotch bonnet peppers. So why not try making your own Jerk Chicken today? It's sure to tantalize your taste buds!
Ackee and Saltfish
Ackee and Saltfish is a traditional Jamaican dish that is packed full of flavor and nutrition. The main ingredient, ackee, is a tropical fruit native to Jamaica that has a soft texture and nutty flavor. Combined with salted codfish or pollock, onions, bell peppers, scallions, tomato, Scotch bonnet pepper, thyme and vegetable oil; this dish is perfect for breakfast or brunch. To prepare this delicious meal, the saltfish needs to be soaked in cold water for about an hour before cooking it until tender. Then all the ingredients need to be fried together until cooked through. Ackee and saltfish can be served with boiled green bananas or dumplings for a complete meal. Enjoy!
Curry Goat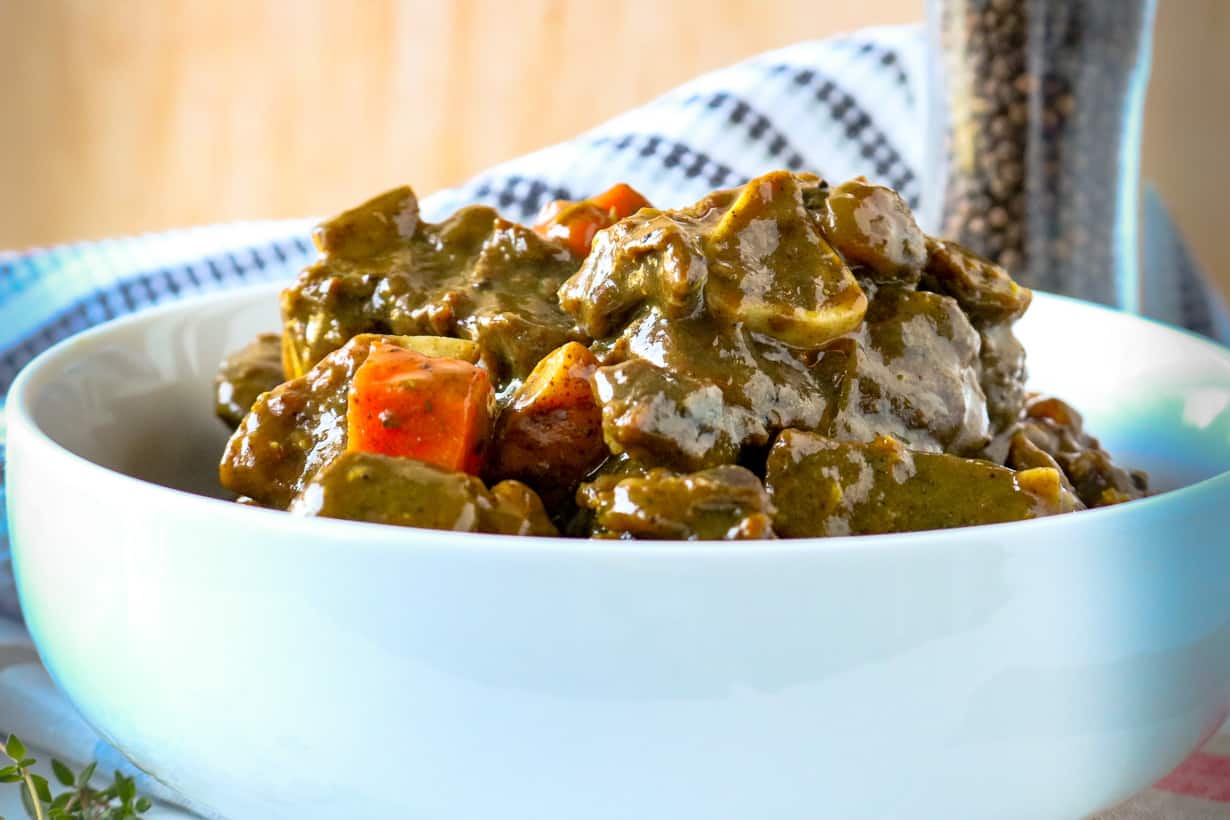 Curry Goat is a traditional Jamaican dish made with goat meat cooked in a flavorful blend of spices. The goat is marinated in a mixture of onion, garlic, scotch bonnet pepper and curry powder before being cooked slowly in a flavorful sauce. The result is tender chunks of goat meat that can be served on its own or with sides such as rice and peas, plantains or dumplings. Curry Goat is often served on special occasions like holidays and family gatherings, but it's also enjoyed any day of the week for dinner. Enjoy this classic Jamaican dish for an unforgettable meal!
Stewed Beef
Stewed beef is a classic Jamaican dish that is perfect for those who want to enjoy a comforting, flavorful meal. This recipe celebrates Jamaican flavors with a base of onions, scallion, garlic, thyme, hot peppers, and ginger plus the classic Jamaican spice: pimento. The combination of these ingredients creates a delicious flavor that pairs perfectly with the beef. To make this dish you will need 2 pounds of beef cut into bite-sized pieces, 1 large sweet potato peeled and chopped, 1 red or green bell pepper sliced (you can use half of both), 1 tablespoon olive oil and 1 tablespoon canola oil.
To cook the stewed beef start by seasoning it with soy sauce, Worcestershire sauce, food browning powder, garlic powder, parsley flakes, basil flakes and black pepper. Heat the olive oil in a large skillet over medium heat. Add in the seasoned beef and cook until it's browned on all sides. Once browned add in the sweet potato and bell peppers along with any remaining seasonings and stir together until everything is combined. Reduce heat to low-medium then cover skillet and let simmer for approximately 20 minutes or until potatoes are tender. Serve over white rice or your favorite starch for an easy but flavorful meal!
Escoveitched Fish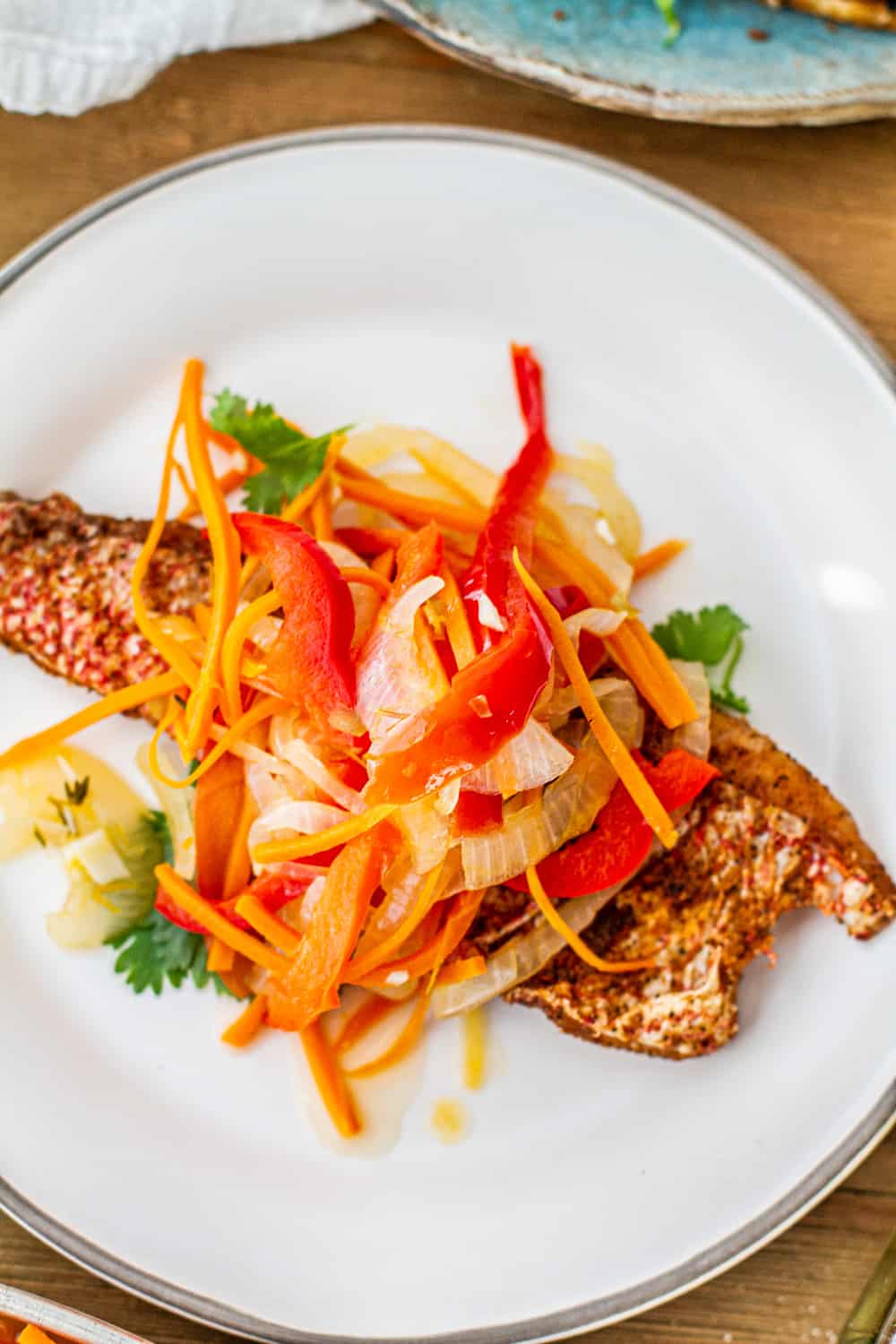 Escovitch Fish is a traditional Jamaican seafood dish that is made with seasoned and fried red snapper or kingfish. The fish is then covered in an escovitch sauce which consists of white onion, carrot strips, pimento berries (allspice), Scotch bonnet peppers, vinegar, and other spices. The fish is typically served with bammy – a tart, spicy, and slightly sweet side dish made from cassava root. This dish can be served as an appetizer or a main dish and it's sure to please even the pickiest eaters! To make this delicious Caribbean treat at home, all you need are some fresh ingredients and a willingness to experiment in the kitchen. Enjoy!
Bammy
Bammy is a traditional Jamaican flatbread made from the cassava root. It's a popular, inexpensive alternative to wheat and is widely enjoyed in rural Jamaica, where cassava is grown and harvested. It's vegan, paleo-friendly and gluten-free! Bammy is usually soaked in either milk or water before being fried until golden brown. It pairs perfectly with Escovitch Fish and has become a favorite among Jamaicans when eating this dish. Bammy can also be used as an alternative Passover bread since it's kosher too! All you need to make Bammy is two pounds of fresh yuca (cassava) that has been grated into small pieces. The Arawaks, the first known inhabitants of Jamaica, used cassava as a staple food before European colonization and today it continues to be an important part of Jamaican cuisine. So why not give this delicious traditional flatbread a try?
Jamaican Patties
Jamaican Patties are a popular Caribbean dish made from a flaky crust filled with seasoned cooked beef, chicken, curried goat, or pork. Tastee Patties is one of the most well-known brands, and their patties have a golden pastry shell and are spiced with curry powder. To make this Jamaican favorite at home you'll need 500g of minced beef ground beef and all-purpose flour. Combine the meat and spices into a paste before rolling it into small balls and placing them inside the pastry shells. Bake them in an oven until they're golden brown for a delicious snack that's both savory and sweet!
Roast Breadfruit
Roast Breadfruit is a popular Jamaican dish that is enjoyed all over the Caribbean. It is typically made by roasting a whole or half breadfruit over wood, coal, stove top fire, foil oven baked fire or boiled. To begin, you need to cut an X along the base of the fruit to allow gas to escape as it cooks. Then rub coconut oil all over the breadfruit before preheating the oven at 180 degrees Celsius (356F) or Gas Mark 4. Roast Breadfruit can be served as a side dish with callaloo or ackee and saltfish, and can also be enjoyed on its own as a tasty snack. For those looking for a unique culinary experience, try out this delicious dish!
Conch Fritters
Conch Fritters are a popular Bahamian dish and are a great appetizer to serve with a variety of dipping sauces. They are made with fresh conch meat, spicy peppers, and batter to give them a light, crispy texture. The meat from the large sea snail called conch is very popular in Jamaica and throughout the Caribbean. It is considered an aphrodisiac and is often used as an ingredient in Caribbean recipes. Conch fritters are very similar to Jamaican Saltfish Fritters, but without the salt cod. All you need to make these delicious conch fritters is some chopped up conch meat, an egg or two for binding, flour for thickening, seasonings like hot peppers or cayenne pepper and oil for frying. Serve your conch fritters hot with a dipping sauce of your choice and enjoy!
Rundown
Rundown is a traditional Jamaican dish that is packed with flavor and nutrition. It is typically made with fish, coconut milk, and a variety of aromatic seasonings such as onions, garlic, and tomatoes. The fish is usually salted hake or horse mackerel which gives the dish its signature salty flavor. Run Down can be served with dumplings for added texture and taste. This rich and flavorful dish is sure to tantalize your taste buds and leave you wanting more!
Boiled Yam & Green Bananas
Boiled yam and green bananas are popular dishes in Jamaica. These ingredients are boiled together to make a nutritious and filling meal that goes well with most traditional Jamaican main dishes. Boiled yam is usually combined with green banana, which has a starchy texture similar to potatoes. The combination of these two ingredients provides essential vitamins, minerals and dietary fiber to the body.
To prepare boiled yam and green bananas, start by adding 8 cups of water to a pot along with peeled and cubed yam. Next, add the diced green banana and bring the pot to a boil before reducing the heat to low-medium. Simmer for about 15 minutes or until both vegetables are tender. Serve this dish as an accompaniment to main dishes such as Vegan Ackee, Vegan Salt Fish or Callaloo for breakfast or dinner.
This dish is also packed with nutritional benefits due to its high content of dietary fiber, vitamins A, C and B6, magnesium, potassium and phosphorus. Boiled yams provide energy while their natural sweetness helps curb any sweet cravings without using refined sugar in your diet! Green bananas contain resistant starch which helps maintain healthy blood sugar levels while aiding digestive health too!
Boiled yam & green bananas are an easy-to-make meal option that can be enjoyed as part of any balanced diet!
Coconut Drops/Drops of Joy
Coconut Drops, also known as Drops of Joy, are a traditional Jamaican sweet treat. Made with dried coconut flesh, organic cane sugar, and water, these delicious treats have been enjoyed by Jamaicans for generations. The process is simple; the coconut pieces are boiled in water until they become soft and then mixed with the sugar and left to dry before being cut into small pieces. They are then lightly fried or baked until golden brown and crispy on the outside. These treats provide a delightful combination of sweet, salty, crunchy goodness that everyone can enjoy!
Fruitcake/Black Cake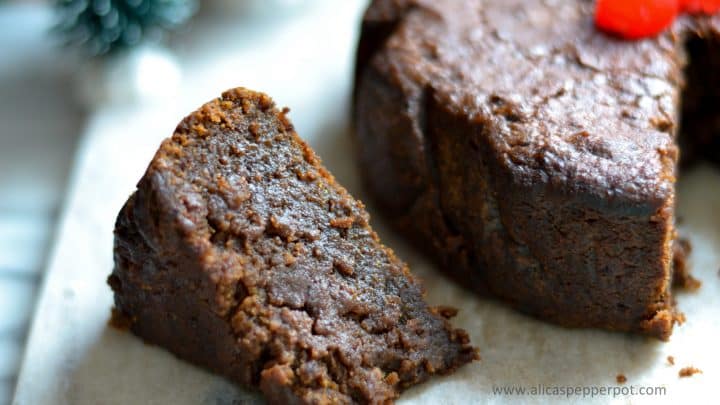 Fruitcake/Black Cake is a traditional Jamaican cake recipe made with dried fruits and butter. The fruit is soaked in Red Label Wine for at least one week before being added to the cake. It's then blended together with butter, sugar, and browning until soft and fluffy. This rich and delicious cake can be served as a dessert or topped with cream cheese frosting for a special treat. It's the perfect way to add an island flair to your holiday celebrations!
Conclusion
Conclusion: Jamaica is a beautiful island with an abundance of delicious traditional dishes and drinks to try while visiting. Popular Jamaican dishes include ackee and saltfish, jerk chicken, curry goat, fried dumplings, steamed fish, curried shrimp, tripe and beans, stew pork and more. Many pastries, breads and beverages are also popular choices for those looking for a sweet treat or refreshing drink. Whether you're looking for something savory or sweet – there's something for everyone in Jamaica!