Portland, Jamaica is a beautiful Caribbean destination located on the easternmost tip of the island. This lush, tropical paradise is home to many attractions that draw the attention of visitors from all over the world. From breathtaking beaches to majestic mountains, Portland Jamaica has something for everyone.
Whether you are looking for an adventure-filled excursion or a more leisurely Caribbean getaway, you will find plenty of opportunities to explore the island and its attractions. From the Blue Mountains National Park to the Port Antonio Marina, Portland Jamaica offers plenty of exciting activities and sights to take in.
In this post, we will be exploring some of the top attractions in Portland Jamaica, so you can plan your perfect vacation. From sightseeing and shopping to outdoor activities and water sports, the island offers something for everyone. Read on to learn more about Portland Jamaica's attractions and find out which ones fit your vacation style the best.
Why Portland?
For a true tropical escape, Portland on the eastern coast of Jamaica is the perfect destination. Lagoons, stunning vistas, and plenty of peace and quiet await in this tranquil paradise. Don't let the allure of Montego Bay, Negril, and Ocho Rios draw you away – Portland is the ultimate getaway for relaxation.
Portland Jamaica is a picturesque and laid-back town located along the Caribbean Sea, making it an ideal destination for those looking for a relaxed and stress-free vacation. Unlike the bustling city of Montego Bay, Portland Jamaica offers a slower pace of life, making it the perfect place to unwind and escape the hustle and bustle of the city.
The town is home to some of Jamaica's most beautiful beaches, offering visitors stunning views of the Caribbean Sea, as well as a wide range of activities such as hiking, snorkeling, and kayaking. The town is also a great spot for birdwatchers, with a wide variety of species to observe.
Additionally, Portland Jamaica is a great hub for exploring the rest of Jamaica's beauty, as it is conveniently located close to Port Antonio and Ocho Rios. All of these factors make Portland Jamaica a great alternative
Portland Jamaica attractions
Jamaica's Portland is a hotbed of excitement, with its renowned jerk chicken and magnificent Blue Lagoon. Located on the north-eastern coast, it is conveniently near the bustling capital city of Kingston. Exploring Portland is a great way to discover the hidden gems of Jamaica.
A visit to the Blue Mountains, Jamaica's highest mountain range standing at an impressive 2,256 metres, is an effortless journey from Portland parish. It's a must-see for those seeking to explore this iconic landscape.
1. The Blue Lagoon
This Jamaican paradise of a lagoon is nothing short of stunning. If the Blue Lagoon rings a bell, that's likely because it was part of the iconic movie with the same name featuring Brooke Shields.
This famous Jamaican spot used to be called Blue Hole but the name was changed to match the movie. The color of the water varies from a lush green to turquoise and deep blue, depending on the light and the time of day.
This tourist attraction is truly a sight to behold with its unique blend of fresh river water, salt water from the ocean, and hot and cold pockets of water from the Caribbean Sea and springs!
Splashing around in the Blue Lagoon is an absolute blast! And if you're feeling adventurous, you can hop on a raft and explore the Rio Grande. Or, you can board a boat and set sail for the dreamy Monkey Island – where you can be at one with nature and enjoy some blissful solitude.
2. Frenchman's Cove
Experience a paradise of relaxation at Frenchman's Cove Beach in Portland! This beach is one of Jamaica's most beloved and has been a hot spot since the 1960s when Garfield Weston, the mastermind behind iconic London stores Fortnum and Mason and Selfridges, constructed 18 lavish villas.
The glamorous Frenchmen's Cove continues to draw in the celebrity crowd, including a renowned Jamaican athlete ;-). Lush mango trees line the pristine beach and visitors can take advantage of the on-site changing rooms and restaurant.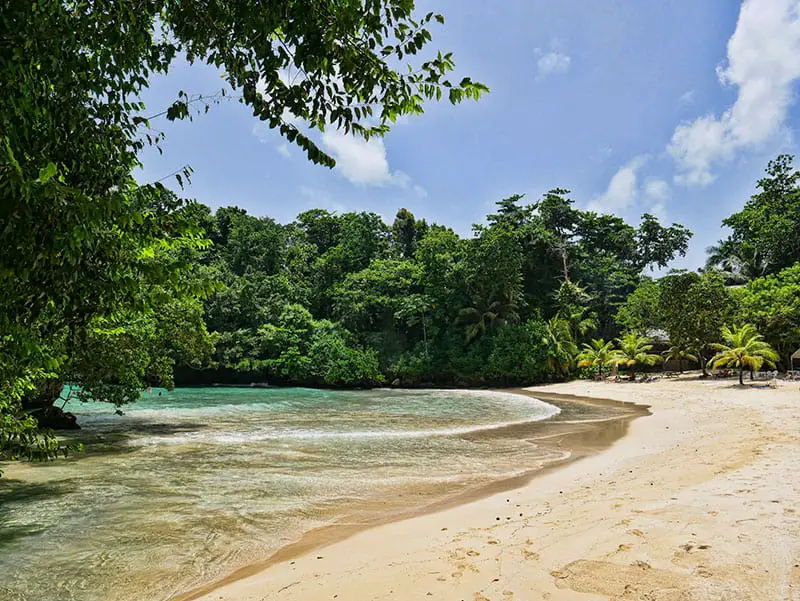 Swinging on the rope swings is an absolute blast! For only $10 per day, you can enjoy the beautiful setting and all the amenities the rope swings have to offer – definitely a deal you can't pass up!
3. Reach Falls
Discovered by the discerning eye, Reach Falls stands as a majestic gem of Jamaica. Nestled in the lush Montane Forrest and embraced by the John Crow Mountain Range, this spectacular spectacle of cascades is a luxurious sight to behold. An ideal paradise for romance and relaxation, Reach Falls is truly one of the most beautiful waterfalls in the world.
Admission to the majestic falls, famously captured in Tom Cruise's Cocktail and the reimagining of Lord of the Flies, is required.
4. Rafting on the Rio Grande River
Exploring the mighty Rio Grande is a must while visiting Jamaica – take a trip down the river and let an experienced captain guide your raft!
Experience the picturesque beauty of Portland on a luxurious, handcrafted bamboo raft. Recline in the elevated passenger seat while the skilled captain guides the vessel through the waterways. For the adventurous, take the helm and have a go at steering the raft, all under the vigilant watch of the captain.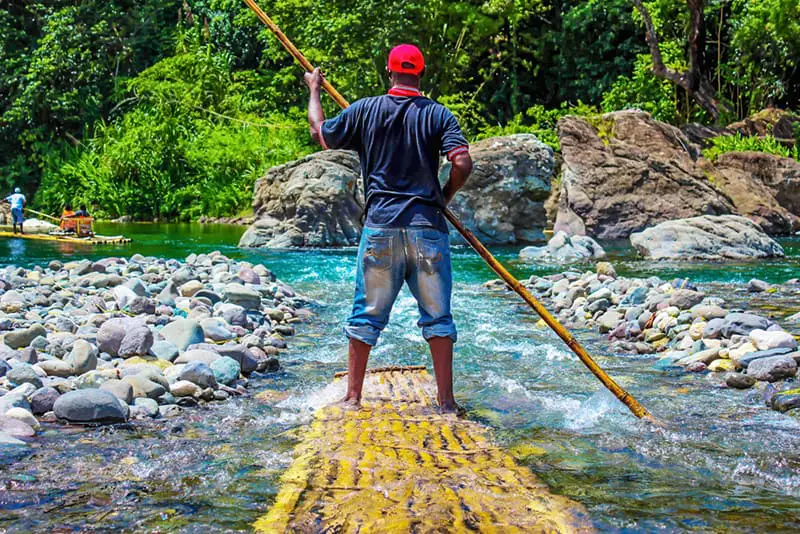 5. I-Scream
Why not cool off after all that spiciness with the creamiest, tastiest ice cream around? Check out I-Scream – nestled in the picturesque Portland Marina – for the ultimate scoop of frozen deliciousness made from top-notch ingredients with a wide range of yummy flavours!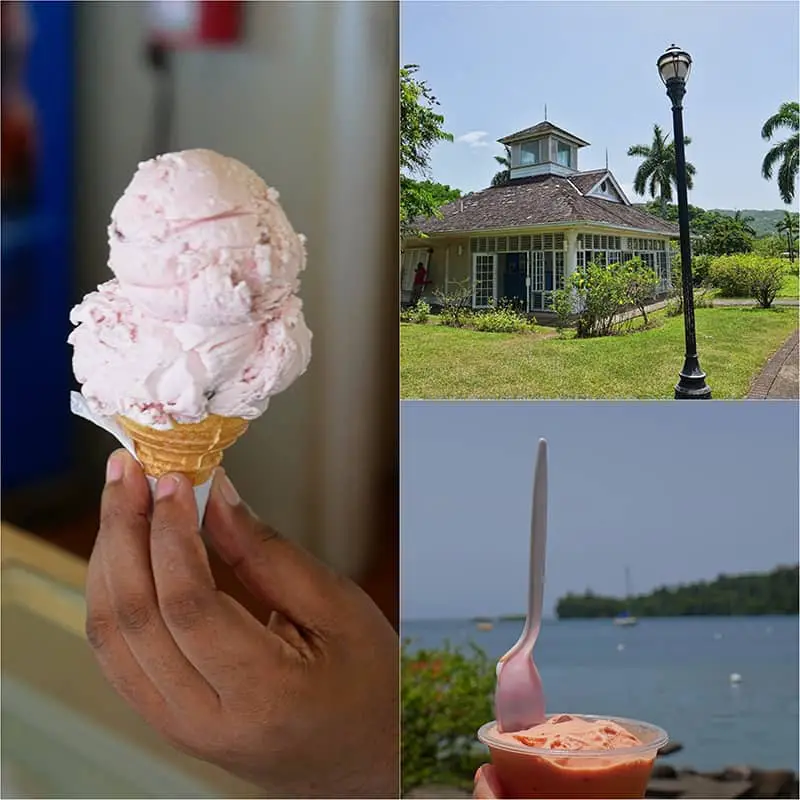 Hidden Gems in Portland, Jamaica
Folly Mansion
The Folly Ruins stands as a living testament to Jamaica's rich history. Its two-storey mansion, constructed in 1901 on the sprawling 90-acre (36-hectare) estate, was the vision of Alfred Mitchell, an American millionaire whose curiosity led him to the port of Port Antoni. Those who visit this remarkable site are sure to be mesmerized by its captivating story.
The romantic story of Folly Mansion is a classic local legend; it is said that Mitchell built the house for his beloved wife, until the unfortunate occasion when his heart was broken, leading to the mansion's slow deterioration. Today, the ruins of Folly Mansion provide a fascinating glimpse of a time gone by, where wealth, love, and loss colluded to create a unique history.
Winnifred Beach
Pack your sunscreen and beach towels and head to the paradise that is Winnifred Beach nestled between the Blue Lagoon and Boston Bay in Portland! With its idyllic seclusion and tropical Jamaican vibe, you can take a dip in the crystal-clear waters, lay out and soak up some sun, or explore the amazing offshore reef for a water-adventure like no other.
How to get to Portland Jamaica ?
Are you doing a vacation that takes you around Jamaica? If so, you'll need to make the 93-mile journey from Sangster International Airport at Montego Bay to Portland Jamaica – a 3.5 hour drive. Alternatively, you could take a direct flight to Norman Manley International Airport in Kingston, which is only 33 miles from Portland.
There is also the new Ian Fleming International Airport (IFIA) in the town of Boscobel, 52 miles from Port Antonio.
Conclusion
We hope this tour of Portland has been nothing but fun and exciting. To delve further into the area's attractions, be sure to check out our amazing blog for future updates – it's sure to give you an even closer look at what this place has to offer!