Are you ready for an adventure? Jamaica offers some of the best river rafting in the Caribbean. From lush rainforests and rushing rapids to peaceful stretches of calm water, there is something for everyone who enjoys a good day out on the river. In this blog post, we'll take a look at some of the best rafting spots in Jamaica and what you need to know before you go.
What Is River Rafting in Jamaica?
Rafting in Jamaica is an exciting and unique way to explore the beautiful Caribbean country. Whether you're looking for a leisurely ride down the Martha Brae River or an adventure-filled journey down the Rio Grande, river rafting in Jamaica offers something for everyone.
Martha Brae River Rafting is a popular activity on Jamaica's north coast. This 3 mile stretch of river takes approximately 1 hour to complete and offers stunning views of lush rainforest and crystal clear water, perfect for spotting tropical wildlife like iguanas and birds along the way. Here, you can hop aboard a 30-foot bamboo raft and relax as you drift downstream with nothing but the sound of nature surrounding you.
For those looking for more thrills, Rio Grande River Rafting may be just what you need! Located in Portland, this magnificent river is known for its thrilling rapids that will get your adrenaline pumping as you paddle through them with your experienced guide leading the way. Here, you'll also get to experience some of Jamaica's vibrant culture through music and stories from locals who call this area home.
No matter which option you choose, river rafting in Jamaica offers an unforgettable experience unlike any other! So if you're looking for an adventure that will take your breath away, look no further than these two amazing locations – Martha Brae River or Rio Grande River – where fun awaits!
What You Need to Know Before River Rafting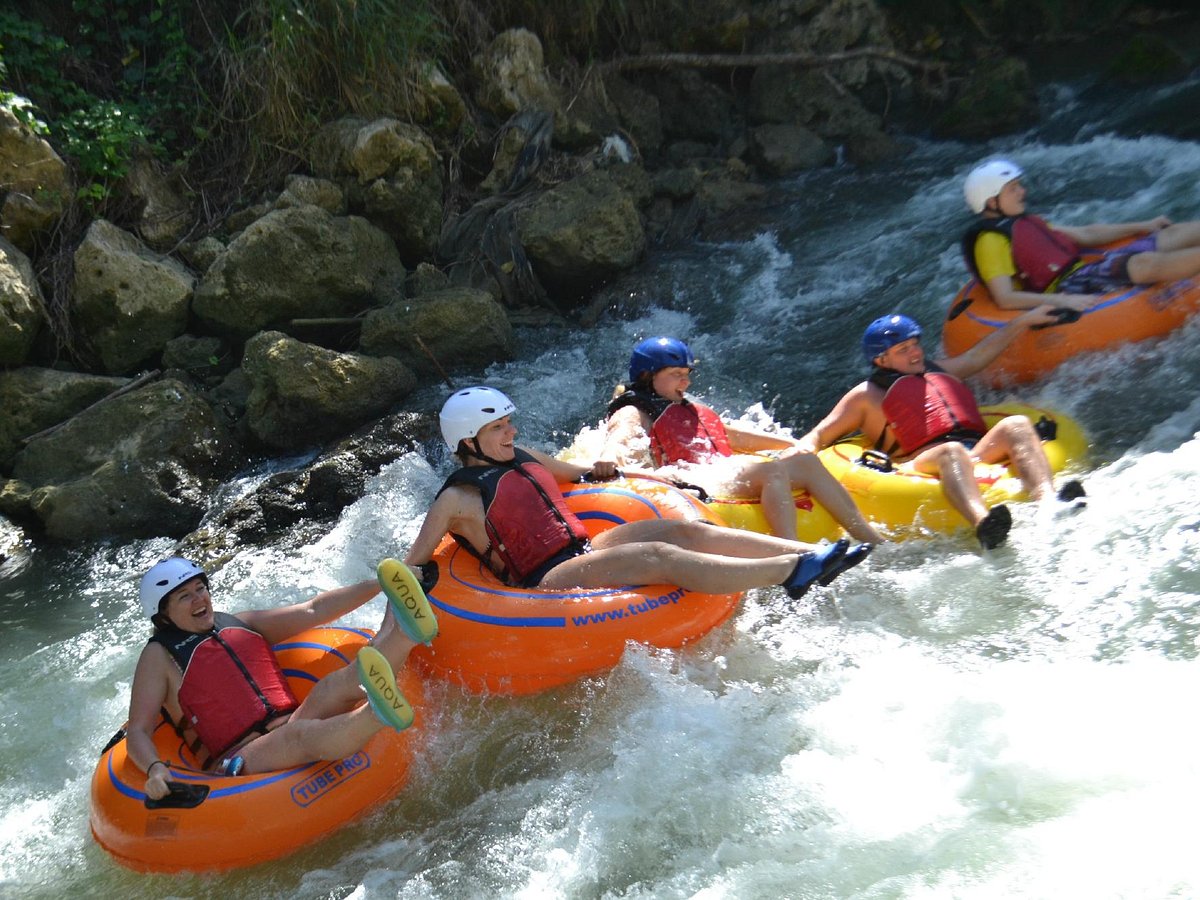 River rafting is a thrilling way to explore the beautiful landscapes of Jamaica. Before you go, there are a few things you should know to make sure you have a safe and enjoyable experience.
First, it's important to wear comfortable clothing such as shorts and a shirt or swimwear. Avoid wearing sandals or flip-flops as they could come off in the water. You should also bring along sunscreen, insect repellent, and an extra set of dry clothes for after your adventure.
The most popular river rafting experience in Jamaica is on the Martha Brae River. This three mile stretch of river takes about an hour to traverse and features stunning views of the lush Jamaican forest. It is generally shallow so no special skills are required; however, all rafts accommodate two passengers so those travelling solo will have to pay for two people.
Other activities available on certain tours include waterfall hikes, swimming, and jumping from cliffs into deep pools – all with proper safety guidelines in place! A private tour guide will be with you at all times throughout your journey to ensure your safety and comfort along the way.
Before applying for a river raft licence, make sure that you meet all necessary requirements including certifications of fitness for your group and any other legal documents needed for operating on the river. With these tips in mind and depending on what type of activity you're looking for, bamboo or motorized boat river rafting in Jamaica can be an unforgettable experience!
Safety Guidelines for River Rafting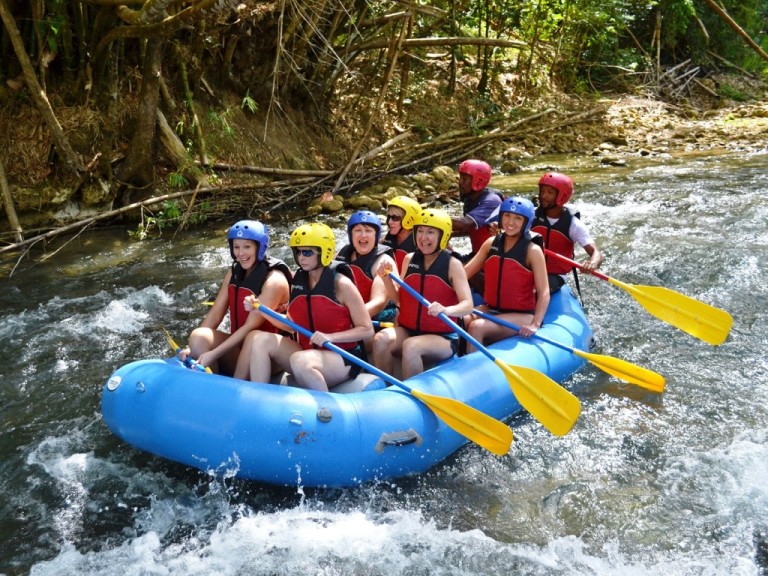 River rafting is an exciting and adventurous way to explore Jamaica's waterways. However, it is important to follow safety guidelines when taking part in this activity.
Firstly, all river rafts must have a valid certificate of fitness before they can be granted a licence by the Authority. This ensures that the vessel meets all safety requirements and is suitable for use on the water.
When participating in river rafting, it is important to dress appropriately. You should wear comfortable clothing such as shorts and a shirt or swimwear. It is also recommended to bring waterproof cameras if possible as well as bottles of water for hydration during the tour.
During your tour, you will be accompanied by experienced guides who will provide advice and assistance throughout your journey. It is important to listen to their instructions at all times for your own safety and comfort. Children must always be accompanied by an adult on any river rafting tour and appropriate safety gear should be worn at all times such as life jackets or helmets.
By following these simple guidelines, you can ensure that you have an enjoyable and safe river rafting experience in Jamaica!
What to Pack For a River Rafting Trip
Planning a river rafting trip? Before you go, make sure to pack the essentials! Here's what to bring:
Water Shoes: These can be purchased or rented and provide extra grip while navigating the river.
Swimwear: Wear it underneath your outfit so you can take a dip in the water if you wish!
Cash: Some of the locations may require cash payments, so make sure to bring some with you.
Waterproof Camera: Have fun capturing all your memories, even when you're out on the water!
Sunscreen Lotion: Don't forget to protect yourself from those harmful UV rays.
Towel: Always handy for drying off after a swim or getting out of the raft.
With these items packed and ready to go, you'll have an amazing time on your river rafting adventure!
The Best Time of Year for River Rafting
River rafting is a great way to enjoy the outdoors and experience nature while having an exciting adventure. It can be done year-round, but the best time to go river rafting is between spring and fall. During these times, the weather is milder, wildlife is abundant, and there are fewer crowds. The rapids are also not as strong during this time of year, making it safer for all levels of experience.
In the spring months, the snow melts in higher altitudes which makes for faster-flowing rivers with more challenging rapids. This can be a great time for experienced rafters looking for a thrill. It's also important to keep in mind that some areas may still have snow in some areas at this time so you should check with local guides before heading out on your journey.
The summer months offer more mild temperatures which make it easier to stay comfortable while rafting on the water. The rivers may not be as fast flowing at this point so if you're looking for a more leisurely ride you may want to plan your trip during these months. Wildlife will also be active during this season which can make it even more enjoyable!
During autumn, temperatures start to cool down again but there are usually still plenty of sunny days to enjoy outdoor activities like river rafting. Be sure to bring warm clothes though as nights can still get quite chilly at this time of year! As with late spring and early summer, autumn is generally less crowded than other times of year and offers a peaceful atmosphere perfect for relaxing on the river's banks after a long day of whitewater fun!
No matter what time of year you decide to go river rafting, there are plenty of
Different Types of Rivers For Rafting
If you're looking for an adventure on the water, then rafting is the perfect activity for you! There are many different types of rivers around the world that offer a thrilling and fun experience. In Jamaica, there are several rivers that provide great rafting opportunities.
The Martha Brae River in Trelawny is one of the best places to go river tubing. This 30-foot bamboo raft runs through rapids and offers beautiful views along the way. You can also explore the White River in Portland and take a dip in its clear waters. Another great spot is Dunn's River Falls in Ocho Rios, where you can experience breathtaking views and adventure over rapids.
At River Rapids Jamaica, they offer an exciting river rafting adventure on the Rio Grande River. Here you will be accompanied by certified tour guides who will help ensure that your experience is safe and enjoyable.
No matter which type of river you choose to explore, always remember to take safety precautions when going on any water activity. Wear a life jacket at all times, follow instructions from your guide closely, and never take unnecessary risks when out on the water!
The Benefits of an Experienced Guide
An experienced guide can help to make your rafting experience on the Martha Brae River in Jamaica even more enjoyable. Not only will they provide you with a safe and educational journey, but they can also offer insight into the rich culture and wildlife of the region. With their wealth of knowledge and expertise, an experienced guide can ensure that you get the most out of your trip.
Your rafting guide will be able to help you navigate through the turquoise waters, providing helpful tips on how to navigate around any obstacles along the way. They are knowledgeable about local wildlife, so you'll get a chance to see some of Jamaica's amazing animals up close. With their assistance, you'll be able to take in all of the breathtaking sights that this corner of paradise has to offer.
In addition to guiding your trip downriver, your experienced guide will also provide an informative tour at Martha Brae River where they'll explain its origin story and share interesting facts about Jamaican culture and history. This insight is invaluable – it helps bring alive what would otherwise have been just another beautiful landscape!
By hiring an experienced guide for your rafting adventure on Martha Brae River in Jamaica, you're ensuring that your trip is as safe as possible while also getting a chance to learn more about this fascinating country. Your guide will not only give you a unique perspective on life in Jamaica but also provide invaluable support throughout your journey downriver.
Popular Attractions Along the Way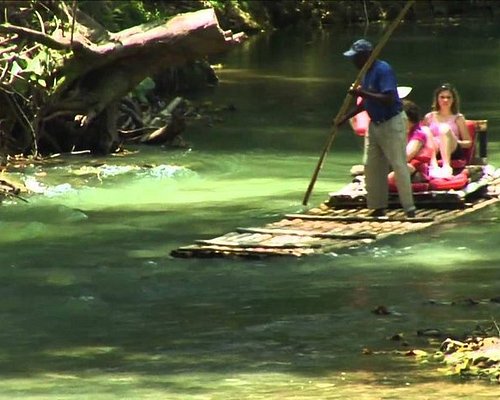 Jamaica is a popular destination for those looking to experience the thrills and beauty of river rafting. There are several attractions along the way that offer stunning views and exciting activities. Marvyn's Paradise Tours offers a 5-hour trip from Runaway Bay, with stops at Jamaica's Cool Blue Hole, Secret Falls, and hip shopping strips. You can also explore the Martha Brae River for a relaxing and romantic experience. Dunns River Falls near Ocho Rios is another major tourist attraction in Jamaica, known for its cascading waterfalls. Other river rafting tours include Jungle River Tubing which offers an exciting blend of relaxation and fun on the Rio Bueno river, as well as bamboo rafting on the Martha Brae in Trelawny or on the White River in Port Antonio. Finally, Turtle River Falls and Gardens located in St. Ann, Ocho Rios has 14 waterfalls that make it perfect for swimming or just admiring the scenery!
Discover Jamaica's Wildlife Through River Rafting
Discover Jamaica's wildlife and breathtaking landscapes with a river rafting adventure! Float down the Martha Brae River on a 30-foot bamboo raft, discovering the lush Jamaican forest and getting up close to crocodiles and other wildlife. Located in the north coast of Jamaica in Trelawny parish, this 3 mile river will take you peacefully downstream towards where it meets the Caribbean sea.
At Marvyn's Paradise Tours, we offer some of the best adventures for all ages. From bamboo rafting tours that give you an unforgettable experience with nature, to horseback swimming and flying through the rainforest hundreds of feet in the air – our tours are guaranteed to create lasting memories.
Experience Jamaica's #1 rafting attraction located in Falmouth – birthplace of reggae legend Bob Marley – and join us for an amazing journey through time!
How to Book a Guided Trip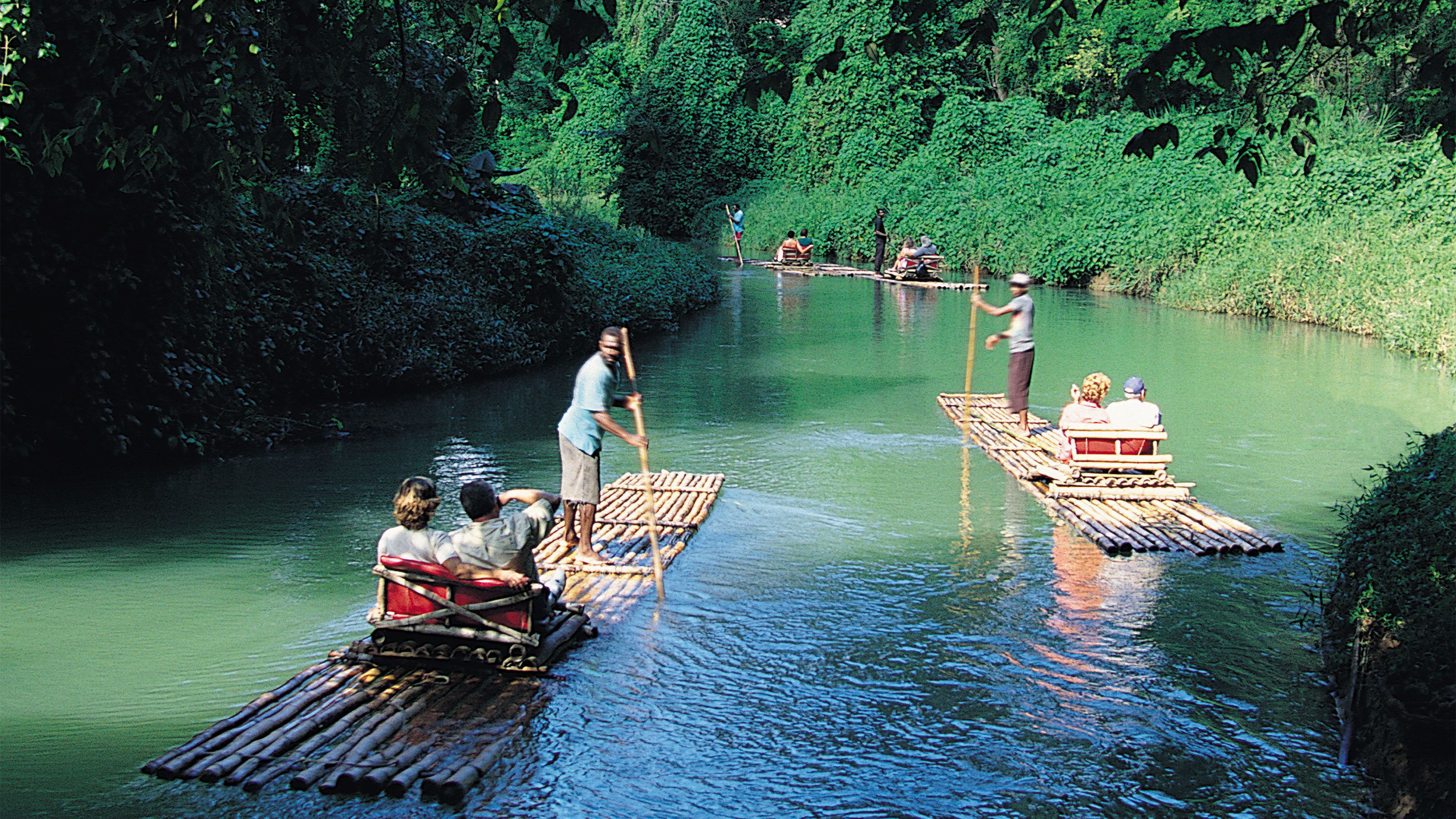 Booking a guided trip down the Martha Brae River in Jamaica is a great way to relax, learn about the area's history and culture, and enjoy an unforgettable experience. There are several tour companies offering trips down this beautiful river that can be easily booked online or through your travel agent.
The first step to booking your own private tour is to decide on which tour company you would like to go with. Many offer different packages and prices so it is important to compare them before making your decision. Some of the most popular companies for Martha Brae river rafting include Marvyn's Paradise Tours, River Rapids Jamaica, and Bamboo River Rafting Tours.
Once you have chosen your company, you will need to book your ticket online or through a travel agent depending on where you are located. Most tours offer free cancellation if needed as well as payment options such as cash or credit cards. Make sure to double check all details including pick-up locations and times before booking.
Before embarking on the tour, it is also wise to bring extra cash in case you want to purchase items from people selling souvenirs along the river banks such as handcrafted items from local artisans. As for what you can expect during the journey itself, you will be riding on a 30 foot long bamboo raft navigated by experienced captains who will share stories about the local region throughout your 3 mile stretch of smooth waterway ride down the Martha Brae river.
So if you're looking for an unforgettable adventure while visiting Jamaica then don't miss out on this amazing opportunity! Book your trip today and explore one of Jamaica's greatest wonders – The Martha
Tips for Making the Most Out of Your Trip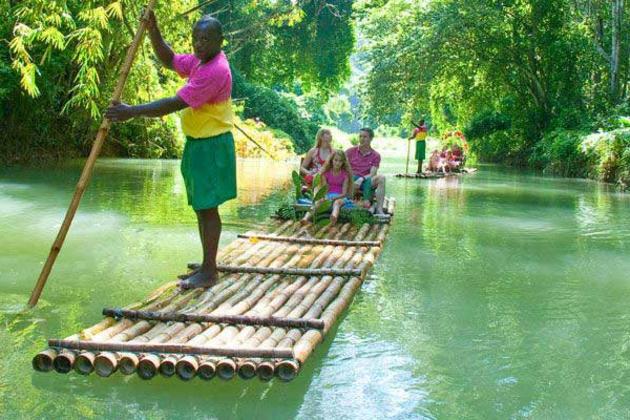 Planning a trip to Jamaica? Don't miss out on the ultimate adventure – river rafting! Float down the Martha Brae River, surrounded by lush Jamaican forest, and enjoy the beauty of nature in an unforgettable experience. Here are some tips to make your trip even more enjoyable:
• Wear comfortable clothing and shoes when you go rafting. Avoid cotton-based materials which will take a long time to dry. Water shoes are also recommended.
• Bring a swimsuit under your clothes if you want to try the Tarzan swing or go for a swim along the way.
• Have extra cash handy if you wish to purchase items crafted by locals along the river.
• Personalize your tour with lunch stops or breaks for swimming, simply by asking your raft captain.
• Thirty-foot long bamboo rafts are boarded from a concrete pier, under the supervision of a licensed dispatcher and operated over three miles of beautiful scenery. Be sure to have an experienced guide like Mario who made sure we were good from beginning to end and was very knowledgeable about local flora and fauna!
So get ready for an unforgettable trip – book an Authentic Jamaican Bamboo Rafting Tour from Montego Bay today!
Challenges Faced During a River Rafting Trip
River rafting in Jamaica is an unforgettable experience that offers an exciting adventure and a chance to explore some of the island's most beautiful landscapes. However, there are some challenges you may face during your trip.
One of the main challenges associated with river rafting is dealing with potential hazards such as rocks, rapids, whirlpools and branches that can cause accidents or unexpected incidents. It's important to wear a life vest at all times in order to stay safe during your journey. Additionally, it's important to be aware of any local animals or wildlife that may be present on the riverbanks or in the water and take extra precaution when passing through them.
The other challenge is dealing with varying weather conditions which can affect the speed and strength of the current. Rapid changes in weather can cause powerful currents to develop making it difficult for rafters to control their rafts or avoid obstacles along the way. In these situations, it's best to seek shelter on shore until the weather improves before continuing downriver again.
Finally, it's important for rafters to have adequate supplies including food and water for their journey, as well as protective clothing appropriate for both hot and cold temperatures depending on where they are heading downriver.
Overall, river rafting in Jamaica can be an amazing experience filled with stunning views and lots of fun! However, understanding potential risks ahead of time will help ensure everyone has a safe and enjoyable adventure along Jamaica's rivers!
Fun Activities You Can Do on or Off the Water
Are you looking for some fun activities to do on or off the water in Jamaica? Whether it's a family vacation or a romantic getaway, there are plenty of exciting and unique things to do in this beautiful Caribbean island. From river rafting to ziplining and from swimming with dolphins to exploring waterfalls, Jamaica has something for everyone. Here are some of the top things to do in Jamaica that will make your stay unforgettable!
Start your day with an exhilarating river rafting experience down one of Jamaica's many rivers. Marvyn's Paradise Tours offers white water rafting trips that take adventurers through the stunning Blue Hole and Island Gully Falls near Ocho Rios. Or join River Rapids Adventures for a two-hour tour down the Martha Brae River where you can swing on a rope and jump into the river water while capturing photos along the way.
For those looking for even more adventure, try out some ziplining at Mystic Mountain Rainforest Adventures located near Ocho Rios. This attraction features four amazing zip lines, as well as nature trails, pools, restaurants, shops, and more!
If you're looking for something more relaxing during your stay in Jamaica, you'll be happy to know that there is no shortage of stunning beaches and natural swimming spots throughout the island – perfect for taking a dip or just soaking up some sun. Head over to White River Ocho Rios where you can take a dip at Reggae Hill or Thatch Hill River Park; two popular spots among locals and tourists alike.
From adrenaline-filled adventures like ziplining and river rafting to tranquil swimming spots – there is no shortage of fun
Conclusion
Rafting on the Martha Brae River is a unique and tranquil experience, perfect for those looking to get away from it all and reconnect with nature. With easy access to the river and comfortable bamboo rafts that accommodate two people, visitors can relax and take in the stunning natural beauty of Jamaica. The signature rum punch is an added bonus that will make this tour even more enjoyable! So if you're looking for some outdoor fun, why not try river rafting on the Martha Brae River? You won't regret it!