For a long time, Jamaica was known as the "Pearl of the Caribbean." The beautiful beaches and laid back lifestyle drew people from all over the world to this island nation.
Over time though, it has become less of a hidden gem and much more popular with tourists. However, that doesn't mean that there aren't still some amazing places you can visit on your trip to Jamaica!
From bustling Kingston to laid-back Montego Bay, there's something for everyone in Jamaica.
Take a look at 5 of the best cities to visit in Jamaica: 👇
Ocho Rios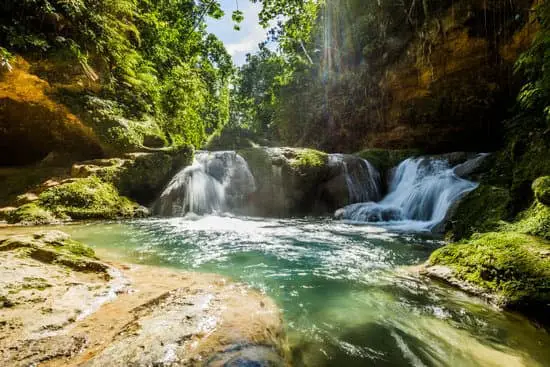 Ocho Rios is a town in St. Ann, Jamaica and one of the most popular tourist destinations on the island.
The city gets its name from the original Taino-speaking inhabitants of Jamaica who named it Acho-Rio (translation: "River with Eight Courses").
Kingston
If you are traveling to Jamaica, it is a must to visit Kingston. This bustling city is home to some of the most beautiful architecture in all of Jamaica. It also has a thriving music scene and many museums and galleries. It's no wonder that Kingston is known as one of the most exciting cities in Jamaica.
Kingston was founded by colonists from England and Barbados when they arrived on the island back in 1692, but today it has grown into one of the largest cities in all of Jamaica (with an estimated population of over 700,000). It's easy to see why so many tourists flock here—there's never a shortage of things to do!
Negril
Negril is a popular tourist destination on the west coast of Jamaica. Not only does it have beautiful white sand beaches, but it's also home to several resorts and all-inclusive hotels. You can enjoy cliff-diving into its crystal clear waters, or go scuba diving with experienced instructors who will show you all the wonders that lie beneath the waves.
You can also visit some of Negril's many restaurants and bars when you're not on vacation, as well as enjoy activities like zip lining through lush forests or going deep sea fishing with locals who will teach you everything they know about catching fish in this part of Jamaica!
There are many things to do in Negril, and you'll never be bored. Whether you're looking for adventure or relaxation, this beach town has something for everyone!
Montego Bay
Montego Bay is the second largest city in Jamaica, and it's one of the most popular destinations for tourists. Montego Bay has beaches, resorts, golf courses and many other things that make it an ideal place to visit. The city is known for its nightlife as well because there are many places where you can go out with friends or meet new people.
The main attraction of Montego Bay is Doctor's Cave Beach; this beach is located between two cliffs and it's one of the most beautiful places in Jamaica. It has white sand and clear waters; you will love this beach if you want some peace and quiet during your trip to Jamaica!
If you want to do some shopping while visiting Montego Bay then there is a great place called Whitter Village which has different stores selling souvenirs from around the world!
Port Antonio
Port Antonio is a town in Portland Parish in the north of Jamaica. It's a popular destination for tourists, who come to relax on its beautiful beaches, hike up the Blue Mountain Peak and explore the many attractions that make it one of Jamaica's most exciting places to visit.
Located on the north coast of Jamaica, Port Antonio is known as "The Garden City" because of its lush greenery and diverse flora and fauna. The area is popular for yachting due to its calm waters, making it easy for sailors to navigate their vessels through shallow coastal waters while enjoying stunning views of palm trees and blue skies above them.
In addition to being one of the best places in Jamaica for sailing enthusiasts, Port Antonio also has some great beaches that are perfect spots for swimming or snorkeling at low tide when coral reefs are exposed (visit during high tide if you want more privacy). One such spot is Blue Lagoon —a pale-blue lagoon surrounded by cliffs close by town; this became famous after being featured prominently in 1980 film The Blue Lagoon starring Brooke Shields!
The Port Antonio area is also home to several other popular attractions, including the Blue Mountain Peak, which stands at an impressive 2,256 feet (685 meters) above sea level; this is the highest point in Jamaica. Another popular attraction is the Dunns River Falls, which are located about 15 minutes outside of town and feature a series of waterfalls that cascade over limestone cliffs into a pool below.
There are a lot of beautiful places to visit in Jamaica.
There are a lot of beautiful places to visit in Jamaica. The best time to visit is during the dry season because it's hot and sunny most days, although there can be some rain every now and then. The best places to visit are in the mountains, the coast and the city. You can get around by car but it's not recommended that you walk around alone because there are many stray dogs and cats on the street that might bite your ankles if they feel like it! Bring your own snacks with you! There are many places to stay in Jamaica, from hotels to resorts and bed & breakfast inns – so find a place that suits your needs!
The people are friendly and helpful so make sure you ask them if they know where something is or where you should go next instead of following someone blindly just because they look nice enough (unless they happen to work at one of our partner hotels).
If you're planning on visiting Jamaica, make sure you know what time of year it is and plan your trip accordingly. There are many beautiful places to visit in Jamaica. The best time to visit is during the dry season because it's hot and sunny most days, although there can be some rain every now and then.
Conclusion
Jamaica is a country with a rich history and culture, as well as plenty to do. There are many places in Jamaica to visit, but there are only five cities that stand out from the rest. They offer everything from incredible beaches to historic landmarks, museums and art galleries all within walking distance from each other. These five cities include Kingston (the capital), Montego Bay (a port city), Ocho Rios (where cruise ships dock), Negril (an international destination for tourists looking for peaceful getaways), and Port Antonio – also known as "The Nature Island of Jamaica" because of its beautiful scenery.
Take-away: We recommend you visit these five cities in Jamaica if you want an authentic experience while exploring this island nation!